Coronavirus live blog as it happened: PM says 12 weeks to turn tide against virus as vaccine trials due for mid-April
Follow the latest updates on the coronavirus outbreak in our live blog below
Published 19th Mar 2020, 08:06 BST
Updated 19th Mar 2020, 19:07 BST
Scroll down and read our coronavirus live blog as it happens.
Before you do that here are some articles offering practical advice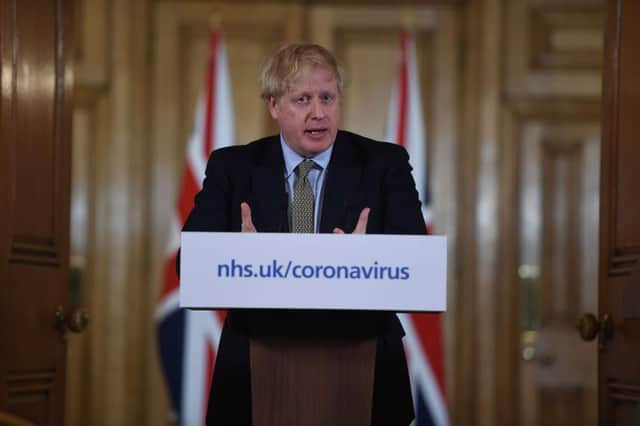 We will be providing live updates until 7pm.
Coronavirus live blog, March 19
Show new updates
Conan O'Brien plans to bring his late-night show Conan back at the end of the month, without a live studio audience, production staff working from home and show guests appearing via a video feed.
The show will be shot on an iPhone, network TBS said.
"The quality of my work will not go down because technically that's not possible," O'Brien said.
Other late-night hosts like Stephen Colbert, Jimmy Fallon, Jimmy Kimmel, and James Corden have suspended work on their shows to avoid mass gatherings of people.
Japan's state visit to the UK in May has been postponed, Buckingham Palace has announced.
A palace statement said: "After consultation with Her Majesty's Government and the Government of Japan, Her Majesty The Queen has agreed that, in the current circumstances, the planned state visit to the United Kingdom in spring 2020 by their majesties the Emperor and Empress of Japan should be postponed.
"The state visit will be rescheduled at a later date."
National Express said it is running reduced coach services in a similar way to how it operates on Christmas Day, due to the drop in demand caused by the coronavirus.
This has the effect of removing up to 80% of capacity.
Education Secretary Gavin Williamson has said the Government would be prepared to waive the newly-qualified teacher status to ensure new teachers currently in training can enter the classroom in September.
During an interview with Sky News, he was asked whether - for trainee teachers who will not have had the required classroom time by September - the Government would be prepared to waive the newly-qualified teacher status.
Mr Williamson said: "We will be prepared to waive that, we will be working with teacher training establishments in order to do this.
"We're also starting to roll out something called the Early Career Framework which in a number of regions will be starting the next academic year and right across the country the following year to make sure new teachers are supported."
Speaking on BBC Breakfast, Education Secretary Gavin Williamson has said the full list of 'key workers' - that is, workers whose children will still be able to attend school following Friday's shutdown - will be released "later on today".
Speaking on BBC Radio 4's Today programme, Universities UK chief executive Alistair Jarvis said: "If an appropriate way can be found to assess students, perhaps a combination of teacher assessments and assignment works that's already done, then awards could be granted this summer.
"This would allow students to get their grades and the university admission process to go ahead this summer."
Asked whether students who have already been offered a place at university could get it as an unconditional offer, Mr Jarvis said: "That is possible, that would be a good option to immediately remove the uncertainty for students."
Labour former prime minister and chancellor Gordon Brown has been speaking on BBC Radio 4's Today programme.
Mr Brown, who was prime minister during the 2008 financial crash, said the scale of the crisis now facing the country is "unprecedented".
"It's a global medical emergency - after all nearly 10,000 people have died, 300,000 people infected.
"It's also a global economic emergency - people think maybe 25 million jobs are going to be lost around the world.
"And it means that people are doubly afraid: they're afraid of catching the virus, or their family members catching the virus, and they're afraid of their livelihoods and their family incomes being lost.
Mr Brown said the measures aimed at slowing the spread of coronavirus, particularly in London, were necessary but called for all the country's resources to be used.
"I think people have got to accept that at certain points, as we've done before, we bring in the Army to help us in certain respects."
More from Education Secretary Gavin Williamson, speaking on BBC Radio 4's Today programme.
He's said there are currently no plans to shut down bars and restaurants and order people off the streets but that ministers would be guided by the scientific evidence.
"We will take the incredibly tough decisions that are sometimes needed in order to ensure the safety of the population.
"The Prime Minister has at every stage in terms of dealing with this demonstrated that he will provide the leadership that is required in order to deal with some of the most difficult decisions that any prime minister has ever had to deal with in peacetime.
"But, as the Prime Minister has said, there are certainly no plans to do so at the moment."
Driving tests in Northern Ireland will be suspended for three months as part of the effort to slow the spread of coronavirus.
The suspension will run for three months until Monday June 22 2020, but this will be kept under review.
Infrastructure Minister Nichola Mallon said: "Driving examiners are in close proximity to members of the public, in a confined space, for up to 40 minutes on each driving test.
"I know this is a time of great uncertainty for people and I want to assure affected staff that they will continue to be paid a salary.
"We will also continue to engage with the local sector and keep them informed as the situation evolves."
Motorists with a driving test scheduled during this period will have the test rescheduled or may apply for a refund.
Michel Barnier, the EU's chief negotiator with the UK over Brexit, has tested positive for coronavirus.
He wrote on Twitter: "I would like to inform you that I have tested positive for #COVID19. I am doing well and in good spirits. I am following all the necessary instructions, as is my team.
"For all those affected already, and for all those currently in isolation, we will get through this together."