'Let's keep South Tyneside open' plea as businesses and health chiefs urge people to stay safe amid covid concerns
'Let's keep South Tyneside open' – that's the message of a new campaign backed by businesses and health chiefs amid fears of the threat covid still poses to people and the economy.
Thursday, 24th June 2021, 4:55 am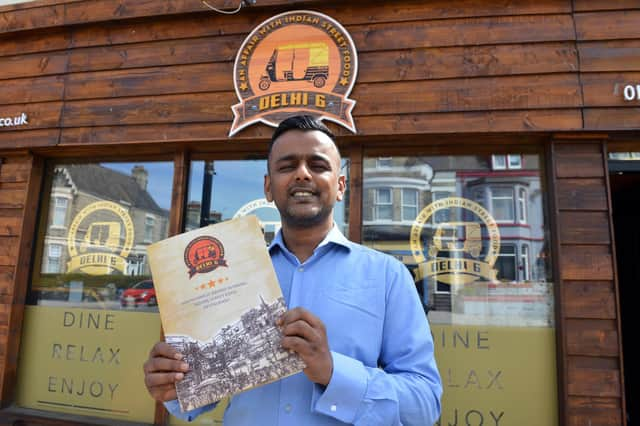 Delhi 6 owner Shah Lalon Amin is among those backing the campaign
In face of the situation, the 'Keep the North East Open' campaign is urging people to continue doing they can to keep the virus at bay.
New independent research commissioned by the LA7 group North East councils reveals today how people across the region feel about Covid-19.
Delhi 6 owner Shah Lalon Amin is among those backing the campaign
The research showed 54% of those asked feel that six months from now, the covid situation will be better than it is now.
But 75% of those asked said even with restrictions relaxing over recent weeks, they don't want to rush into doing things.
Director of Public Health for South Tyneside, Tom Hall said this was wise.
"I want to thank the people of the North East for all they have done to curb the spread of the virus in our region over many months," he said.
"While the Prime Minister has pressed pause on the final phase of reopening, this new research shows that the majority of residents will support the move, because 75% of them remain cautious about rushing back into doing things again.
"I do believe that by pausing now, ultimately we can get back to where we want to be more quickly in the longer-term, rather than rushing and risking more hospitalisations, and ultimately more deaths and lockdowns.
"We want to keep our region open where it is safe and possible to do so. Waiting a few more weeks to fully unlock will allow more people who are at risk of becoming ill from Covid, to receive both doses of the vaccine - our best protection against the virus.
"In fact, at current rates nearly 10 million second doses of the vaccine could be administered over that time - giving high levels of protection against the Delta variant."
Businesses from across the region are supporting Keep the North East Open.
Shah Lalon Amin owner of Delhi 6, in Ocean Road, is among those starring in the campaign.
"I wanted to be part of the campaign and thank local people for all they are doing to curb covid infection rates in our area, and remind them to stick with the Government guidance, so we can keep the North East open," he said.
"After a really tough year, it's amazing to welcome people back and to once again be doing what we love most.
"We want to keep it that way, so please remember the hands, face, space guidance when you visit us and get the vaccine. You'll be supporting us and protecting our livelihoods, so we can keep our doors open and our customers smiling."
Lalon said customers at Delhi 6 had been 'really respectful' of staff and the rules.
He said: "They understand that they need to wear masks when they enter the restaurant and understand social distancing, with regards to how many people can sit on a table.
"People want to make sure that they support businesses by being responsible as well, which is really encouraging."
He added: "These kinds of campaigns are really important for local businesses as it is vital that local businesses stay open because we have had a really turbulent 16 months.
"We are proud to be lending our support to this campaign."
Support your Gazette and become a subscriber today. Enjoy unlimited access to local news, the latest football stories and new puzzles every day. With a digital subscription, you can see fewer ads, enjoy faster load times, and get access to exclusive newsletters and content. Click here to subscribe.