'Let's not blow it now' - North East leaders' plea as they welcome 'cautious' easing of covid lockdown
'Let's not blow it now' – that's the message from North East leaders as they welcomed the Government's 'cautious' approach to easing lockdown.
Monday, 22nd February 2021, 5:48 pm
Updated
Monday, 22nd February 2021, 5:56 pm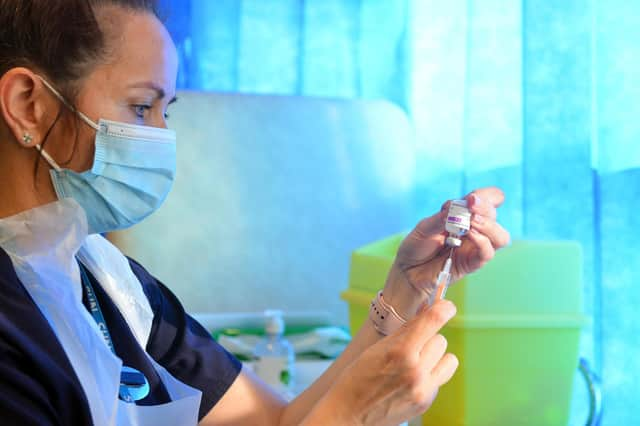 A health worker prepares a covid vaccine. Prime Minister Boris Johnson praised both the vaccination programme and people's efforts during the lockdown as he announced the Government's road map for easing restrictions.
The LA7 group of North East councils, which includes Sunderland, South Tyneside, County Durham, Northumberland, Newcastle, North Tyneside and Gateshead, described the move as 'sensible' but in need of 'constant review' and urged households to stick to the rules as lockdown restrictions began to gradually lift.
"We have lived with restrictions for almost a year now – there are still a tough few weeks ahead – but thanks to the incredible efforts of our NHS, key workers, volunteers and the North East public we are as close as we have been since this pandemic began to finding a way through it," the council leaders said in a joint statement.
"Let's not blow it now. Thank you for everything you are doing to beat Covid."
The LA7 leaders also called for the Government to ensure those businesses continuing to be affected by covid restrictions received enough support.
They said: "While this cautious approach is the right one, the Chancellor has an opportunity in his Budget next week to widen the packages of support to these businesses and communities– along with support for individuals who have to self-isolate.
"Not to do so will lead to much higher costs in the longer term of businesses closing, higher unemployment, a greater risk to public safety and more people struggling both financially and with their mental health.
"We also need greater clarification as to how we will control future outbreaks.
"Unless Test, Trace and Isolate are all strengthened further and businesses in areas affected are given full financial support, adherence and compliance will be undermined because people will fear losing out financially."
They added: "What today's announcement doesn't change for now is the need to stay at home and only go out for essential reasons, including staying local when exercising, maintaining social distancing at all times, wearing face coverings and continuing to regularly wash our hands."
Mr Johnson confirmed to the House of Commons on Monday afternoon that all pupils will go back to school on March 8 and that the Rule of Six will return on March 29, with people allowed to meet outdoors including in private gardens.
Step two of the roadmap, which will begin no earlier than April 12, will see shops and hairdressers reopen, while pubs and restaurants will be allowed outdoor service then too.
It is hoped that people will be able to see friends and family indoors from May 17, when hotels, theatres, cinemas, and football stadiums could also reopen.
The final step four, which will arrive no earlier than June 21, will see all legal limits on social contact removed.