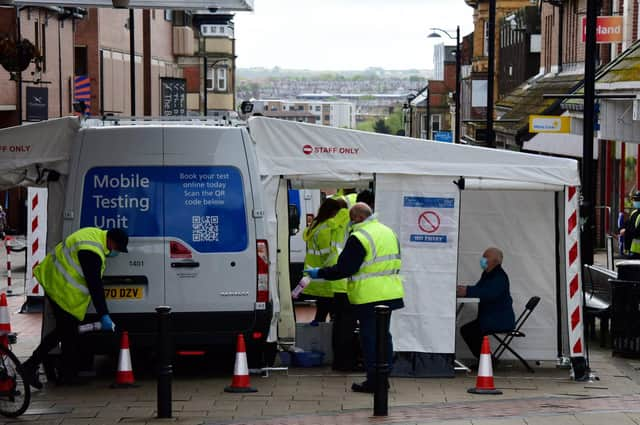 Mobile COVID-19 surge testing units are deployed in North Shields town centre as North Tyneside Council and the NHS targets communities which are seeing concerning growth of the Indian coronavirus variant.
Research by National World's data editor has found that North Tyneside is in the twenty worst-ranking councils areas in terms of covid, potentially putting it at risk of local lockdown restrictions.
Last week the Prime Minister refused to rule out local lockdowns amid concerns about the spread of the Indian variant.The Prime Minister's official spokesman said that it was "too early to speculate on what future measures we may or may not need to take" and that local lockdowns weren't being "ruled out at this stage".
The local lockdown warning sparked concern in the North West, where there has been a surge in cases linked to the Indian variant, and where many areas have been under some sort of local lockdown or national lockdown since July 2020.
Mobile COVID-19 surge testing units in North Shields amid concerning growth of the Indian coronavirus variant.
David Greenhalgh Conservative leader at Bolton Council warned of potential 'unrest' if his area was put under local lockdown after the area's case rate increased by 99% to 321 cases per 100,000 amid an outbreak of the Indian variant in the area.
Meanwhile Blackburn and Darwen's director of public health Professor Dominic Harrison has urged residents to get tested for covid as part of the area's surge testing amid fears people were reluctant to get tested as they didn't want to risk pushing covid case rates up in case it led to the area being placed into local lockdown.
The covid case rate per population had been one of the key criteria the Government used last year when deciding on local restrictions, alongside the rate of increase, the prevalence among people aged 60 and over, the positivity rate – which is the proportion of tests that come back positive – and pressure on the NHS.
The area has seen a 105% increase in the weekly case rate after an outbreak of the Indian variant was reported.
North Tyneside council confirmed on Saturday May 22 that there are currently 19 confirmed cases of the Indian variant in the borough and said it is likely that this number will increase.
Surge testing and additional vaccinations are being carried out in North Tyneside as they look to protect residents from the virus.
However if a local lockdown was needed to control the spread of the virus due to the rates in North Tyneside it seems unlikely that this would be put in place without other council areas, including Sunderland, South Tyneside, Durham and Northumberland, also being affected.
The region-wide approach is seen to be more effective than small individual council areas being under restrictions Professor Neil Ferguson told BBC Radio 4's Today programme last week. He said that local lockdowns were "more effective if they cover wider areas", adding that the tier system "to some extent worked, it slowed spread".
Bolton council leader Mr Greenhalgh has also said he thinks localised lockdowns don't work, adding that "people travel 50 yards across a county boundary to access hospitality that they can't in their own area".
Last week the public health directors of the seven authorities issued a joint statement and warned that the North East is 'not out of the woods yet'.
In the statement they said: "Some areas of the country are beginning to see infection rates creep up again – some are increasing very quickly - and cases have been linked to new variants of concern which appear to be more easily passed on.
"Schools and businesses across our region have been affected by small, localised outbreaks and as we know from painful experience, this is likely to result in spread among the wider community.
"The vaccine remains one of the best ways of protecting ourselves and others so our message today is to ask everyone to take up both doses of the Covid-19 vaccine when it is offered."