Nightingale hospital hit by ineligible patients booking vaccine appointments after links shared on social media
Sunderland's Nightingale hospital has been hit by ineligible patients booking coronavirus appointments after links were shared on social media.
Health and care staff working in specialist schools and providing close care and working regularly with high numbers of clinically vulnerable children are entitled to receive a COVID-19 jab.
But hospital staff have been forced to turn a number of people away after links to book appointments were shared online.
A hospital spokeswoman said the NHS was acting on expert advice in deciding how to prioritise who was eligible for a vaccination: "Getting to the right groups of people first means that we to prevent serious illness and mortality – and help protect the NHS," she said.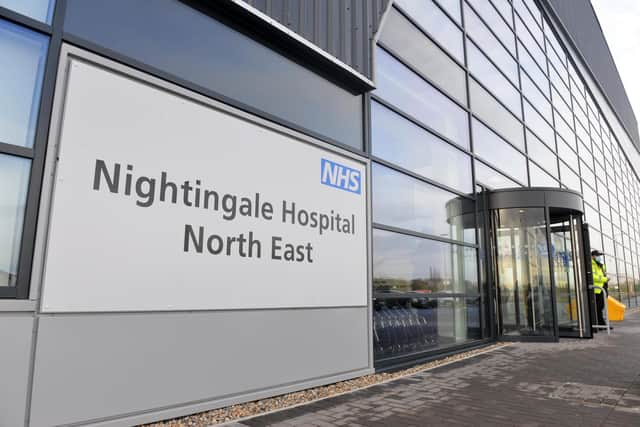 "It appears that booking information was shared outside of the priority groups on social media forums that led to some people attending vaccination appointments when they are not eligible to do so."
It is not believed anyone received a jab who was not entitled to one, but a small number of people who were entitled to an appointment were also turned away.
Personal assistant Jodie Robinson, who works with vulnerable children from Sunderland, was refused entry to the vaccination centre after security asked to see an ID badge which personal assistants employed by individual families and other private firms don't hold.
The hospital spokeswoman confirmed that Jodie had not been the only person to be refused entry incorrectly and staff had now been briefed on the problem: "We turned those people away and we unfortunately inadvertently turned away a small number of staff who do work closely with vulnerable children," she said.
"We are working with our partners to ensure that these eligible staff are rebooked quickly and our front line vaccination teams are aware that not everyone has traditional identification badges, but we do need to check identities.
"We know people are very keen indeed to get their vaccine and we're sorry about any inconvenience caused by this situation.
"The NHS and partners in our region are working extremely hard to make sure people are vaccinated in the priority groups, so far over 600,000 people."
Support your Echo and become a subscriber today. Enjoy unlimited access to local news, the latest on SAFC and new puzzles every day. With a digital subscription, you can see fewer ads, enjoy faster load times, and get access to exclusive newsletters and content. Click here to subscribe.