Union and North East Ambulance Service clash over Covid PPE
Union says low paid ambulance workers are 'being put at risk' by two-tier PPE policy but ambulance service chiefs say they have followed guidance to protect all staff.
Published 8th Mar 2021, 07:00 BST

- 3 min read
Updated 8th Mar 2021, 13:19 BST
GMB, the North East's biggest general union, says NEAS is prioritising higher paid workers and leaving lowest paid front line staff, who work in scheduled care like patient transport and residential care for non-urgent cases, with the most basic of masks.
Both the emergency and scheduled care workers deal with Covid positive patients but the union claims only the blue light crew members have an acceptable level of protection that they can use.
However, the ambulance service says this additional protection is only worn at specific times such as when intubating a patient who is not breathing.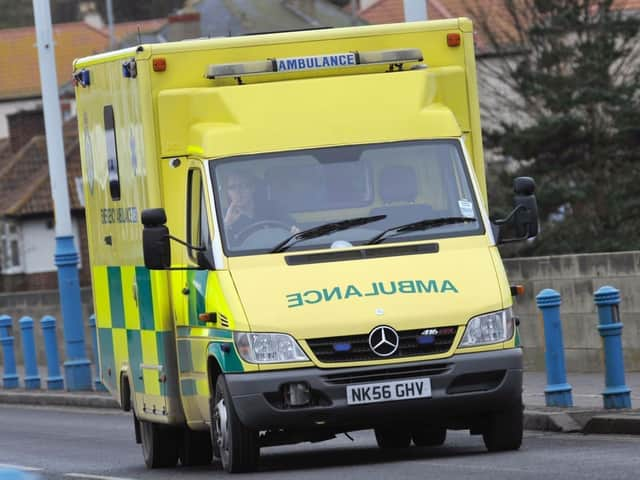 GMB has also questioned Public Health England's guidance that fluid resistant surgical masks are suitable protection after a recent survey of more than 1,500 ambulance workers suggested one in three has now contracted the virus.
Michael Hunt, GMB Regional Organiser, claims NEAS are 'playing fast and loose with Covid safety'.
He said: "GMB welcomes blue light crews being protected, but this has caused a problem of parity and a serious health and safety concern as the lower paid patient transfer crews don't have access to these high-level masks.
"NEAS has declined our request for them to be issued. Why won't NEAS issue all employees with high-level masks and stop discriminating against the lowest paid crew members?"
But ambulance chiefs says they have worked closely with unions and senior clinicians to put in place strict protocols to keep staff safe during the pandemic – including cleaning regimes, tighter infection prevention and control measures, remote working, shielding, in-house PCR testing, lateral flow testing of asymptomatic staff, general promotion of health and wellbeing and with vaccinations.
Sarah Rushbrooke, director of quality and patient safety, said: "We have sourced and supplied millions of pieces of PPE since the start of the pandemic to protect our staff on the road and continue to follow national guidelines published by Public Health England.
"Their latest review in January 2021 made no changes to PPE guidance for ambulance crews. If there is a change to national guidance, at any time, we would immediately amend and update our guidance and practice to reflect those changes.
"All operational staff should be wearing level 2 PPE when in close proximity (two metres) of patients. This includes disposable gloves, a disposable apron, a fluid resistant surgical mask and eye protection.
"Emergency care staff have a personal issue respiratory equipment and a higher level of PPE which they only use when carrying out life-saving aerosol generating procedures, such as intubating a patient who is not breathing, where the risk of Covid-19 transmission is much greater
"The use of PPE is not a replacement for the usual infection prevention and control risk assessments that all our staff carry out routinely to underpin all clinical practice and decision making."
NEAS's stance has been backed by Dave Cunningham, National Specialist Advisor for infection, prevention & control at the Association of Ambulance Chief Executives, who added: "Due to the nature of the role of patient transport, there is no requirement for scheduled care staff to use level 3 PPE. The decision on PPE requirement is based on clinical role and risk exposure."
The dramatic events of the pandemic are having a major impact on many of our local valued advertisers and consequently the advertising that we receive. We are now more reliant than ever on your support through buying our newspaper. If you can, please pick up a copy of the paper when you are at the shops. Thank you.