COVID DIARIES: Missing the football and a chit-chat down the club
Dave Langley, 55, is a clinical care manager with North East Ambulance Service
Published 12th Feb 2021, 18:42 BST

- 3 min read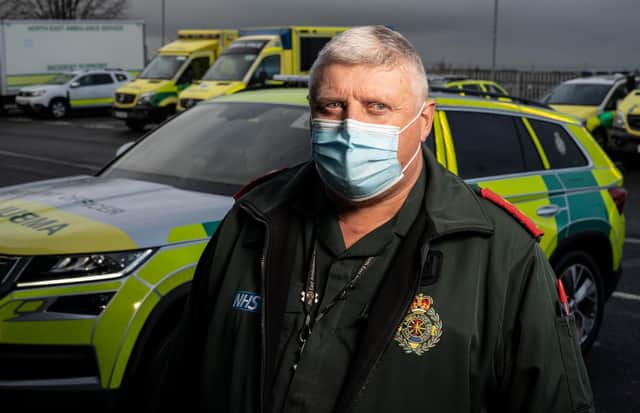 As part of the #BeatCovidNE campaign he has been keeping a diary of life in lockdown.
We caught up with Dave to find out how he's coping with lockdown, his thoughts on falling Covid infection rates and why he can't wait to experience a live football game again, watching his beloved Sunderland AFC...
"I've been on leave recently which is a welcome break because it's been - and continues to be - an incredibly busy winter. This lockdown has made me realise how content I can be at home. Before Covid, if I felt at a loose end, I would pop down to the club for a chit-chat with people.
Now though, I have learnt that I don't always have to be out and about, doing something. I am happy simply staying at home.
North East infection rates are falling, and this is a credit to people sticking to the rules. Given the news that the UK variant is 30% more deadly, making sure you wear a mask, minimise social contact and wash your hands regularly is still so important. I think most people across the region do realise this.
It's so ingrained in our daily routines now, isn't it? I know my partner Denise always checks that she's got her handbag, phone and mask before she leaves the house. I'm always carrying a small bottle of hand sanitiser in my pocket too.
While we're working hard to get the infection rate down, this is not a time to become complacent. We must continue being vigilant, following the government's stay at home message and consistently stick to the rules.
Becoming a bit careless by, for instance, forgetting to wear your mask when at the supermarket, to distance from your colleagues at work or travelling out of your usual area is enough to tip the infection rate the other way. It's that finely balanced at the moment.
I know everyone wants to know when restrictions are going to be lifted but we must accept that the threat of Covid is higher than ever at the moment. If we are going to work our way out of this lockdown then the only solution to that is by following the rules, staying at home, and not seeing our friends and family unless they form part of our support bubble.
As a region, we're working so fast in getting the most vulnerable groups vaccinated and we're ahead of the national curve. Several of my family members have had the vaccine now. My 78-year-old mam has had her first dose which is a huge relief and so has Denise and my daughter who is an A and E nurse.
Although we have all received our first dose, we know we're not now immune to Covid and we could easily transmit it without knowing.
We must remember that many people who have the virus are symptomless.
They don't know they have it and don't know that they're passing it on. It's a silent killer. This is where we really need to communicate that stay-at home message. Act like you have Covid. Keep social contact to a minimum. That's the best thing you can do.
Of course, like everyone, I am missing normal life. I hugely miss going to watch Sunderland play every weekend. It was always a good day out. We also had a couple's getaway planned for March but sadly that's off the cards now.
The thing that's keeping me going is a summer where Covid infections are low. If we do the hard work now, we'll hopefully be able to make the most of the better weather. I would love nothing more than to meet friends down the seafront to enjoy some sunshine, a few drinks and just each other's company. I can't wait for those days to return."