New £10m state of the art centre helps diagnose patients closer to home
A centre kitted out with the latest technology will help patients facing a wide range of health issues get answers about their condition quicker and much closer to home.
South Tyneside and Sunderland NHS Foundation Trust has confirmed plans for a new £10 million Integrated Diagnostic Centre (IDC) which will be built at South Tyneside District Hospital.
For the first time ever, local people will have local access to a PET-CT scanner, which uses a specialist diagnostic procedure involving a radioactive drug to show ar- eas of the body where cancer cells may be active.
It means patients will no longer need to travel to the James Cook University Hospital in Middlesbrough or the Freeman Hospital in Newcastle for their PET-CT scan.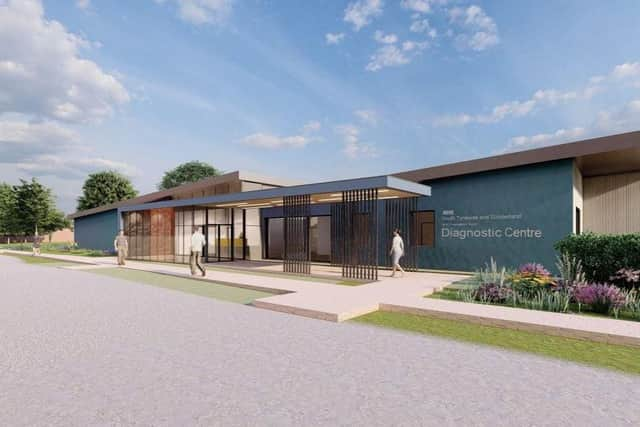 The development means patients across South Tyneside, Sunderland and parts of Durham will have access to care much closer to home.
The centre will also have two MRI machines, two CT scanners and clinical consultation rooms, while a 'docking' station will ensure there is space for further capacity, planning ahead for future care.
The development will help the local NHS service recover from COVID-19 as it begins to tackle the backlog of people now waiting for treatment.
The state-of-the-art equipment within the Integrated Diagnostic Centre will link up with South Tyneside and Sunderland NHS Foundation Trust's digital patient record system, so consultants can view and report on images beyond the physical building.
This will help quicken reporting times, meaning patients will be able to begin their treatment sooner.
Ben Hall, the Trust's Clinical Director for Clinical Support Services and a Consultant Radiologist, said: "Having a PET-CT scanner here on our doorstep will make a real difference and will, without a doubt, speed up treatment and care for thousands of people across our region who are undergoing cancer investigations.
"Having a scan closer to home will take away some of the stress of an appointment and we know getting a quick cancer diagnosis is important for patients and their families so that treatment can begin quickly.
"We're working closely with the design team to make sure the new Integrated Diagnostic Centre is tailored to the needs of our patients and staff and is ready to serve us for many years to come.
"Our vision is this will become a flagship facility for the North East and a fantastic resource for our teams, as well as encourage more people into careers in the NHS as we look to develop the future generations of the NHS workforce."People will still be able to access other scanning facilities at Sunderland Royal Hospital and Durham Treatment Centre and have the option of visiting South Tyneside in future.
The Trust's new Integrated Diagnostic Centre will go before planners this autumn with hopes of completion towards the end of next year.
It will be launched thanks to the Trust's partnership with Alliance Medical, which has provided it with mobile diagnostic vans for more than a decade and provides PET-CT scanning across the NHS.