£2m Endoscopy Department welcomes patients into suite
A £2 million investment to create a new unit for patients who need to undergo an endoscopy procedure is now complete at South Tyneside District Hospital.
The new state-of-the-art facility is equipped with the latest technology and means endoscopy services are now provided from a bespoke environment for both patients and staff.
Patients are now admitted, treated and discharged from a dedicated endoscopy suite situated in the same part of the hospital.
Previously, patients attending for an endoscopy appointment had to attend two different areas which were situated across the main thoroughfare of the hospital. The new unit also offers staff improved facilities as they work to deliver first class services and support patients as they help diagnose and treat a variety of conditions.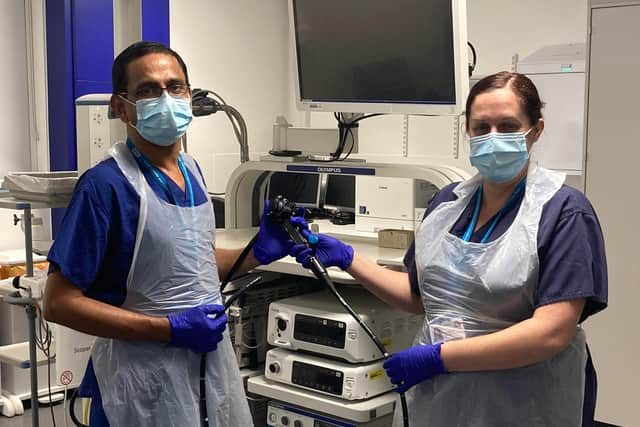 Helen Turnbull, Divisional Director for Theatres and Critical Care at South Tyneside and Sunderland NHS Foundation Trust, offered her thanks to colleagues who helped prepare the unit for its launch and has said both visitors and
staff will benefit from the new-look set up. She said: "We do have patients who come back on a recurring basis and they will really see a real difference, and it will be a much improved environment for them to visit.
"I am extremely grateful to all of those involved in the preparation for the launch of the new unit.
"It really has been a team effort, the endoscopy staff and the estates team have been incredible . They are an excellent team who provide a fantastic service."
The Trust also runs another endoscopy unit at Sunderland Royal Hospital and patients can choseto visit either for their appointment.
An endoscopy is a procedure where organs inside your body are looked at using an instrument called an endoscope.