Youngsters get their teeth into health lessons
Nursery school youngsters in South Tyneside have been brushing up on how to keep their teeth healthy, with the help of a local dental practice.
Published 17th May 2023, 11:23 BST

- 1 min read
Children at Nurserytime, in Beach Road, South Shields, really got their teeth into their lesson when they got a visit from experts from the St Michael's Dental Practice.
The visit was part of the nursery's programme of promoting a healthy lifestyle.
Nurserytime manager Helen Coulson, said: "We strive to promote a holistically healthy lifestyle, from our healthy, nutritious, home-cooked meals to daily exercise.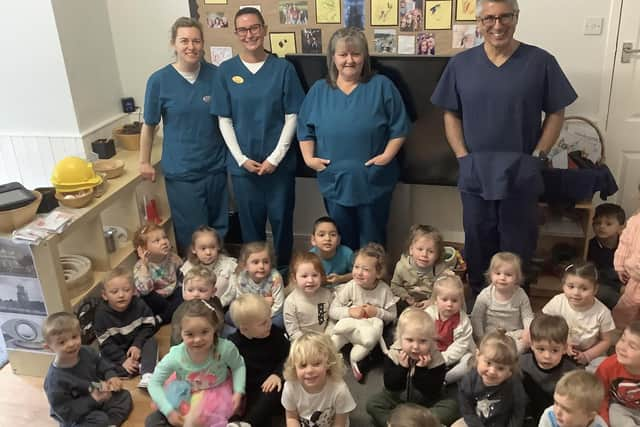 "We hold oral hygiene in high esteem and recognise the benefits of instilling good self-care habits from an early age.
"Our families told us that teeth-cleaning can be a tricky aspect of their daily routine and, with dental places currently limited, we felt it only right we team-up with St Michael's for the advice, support and check-ups our families need."
She added: "The team from St Michael's were great – friendly, approachable and the little ones were happy and willing to undergo a full check-up, as well as learning from their knowledge and expertise around healthy eating habits."One family said the visit helped them to find a dental place for their child after much searching. while others commented on how excited their children were following the visit and the notable change they saw in their attitudes towards teeth-cleaning at home since.
"The visit really has helped to prepare our children for future dental treatment and helped to instil good oral hygiene habits."