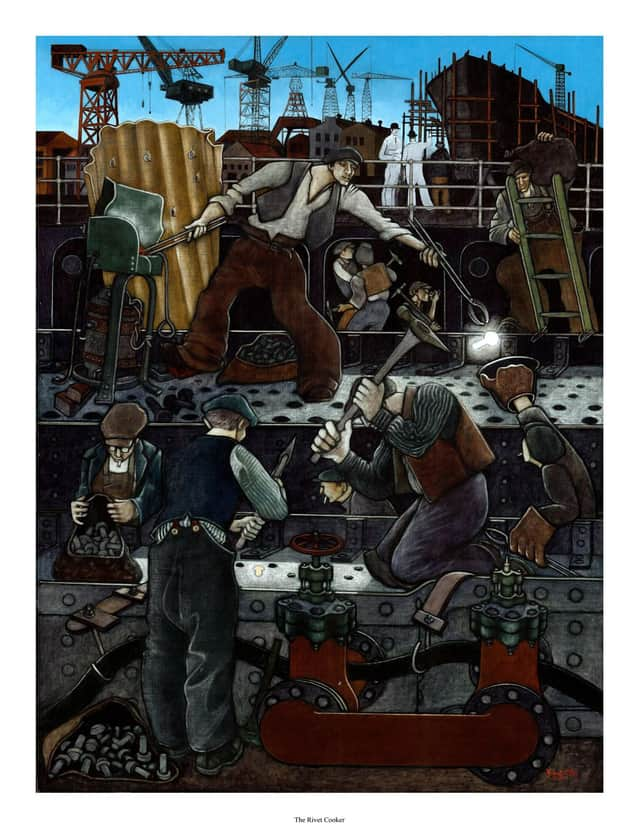 Make a date to visit this fascinating new exhibition at South Shields Museum Image: The Rivet Cooker by Robert Olley
With detailed descriptions and exhibits, South Shields Museum & Art Gallery has pieced together the stories behind the thousands of workers who carried out amazing feats of engineering.
The Pushing the Boat Out exhibition celebrates the importance of maritime industry to the area, where thousands were once employed, creating a reputation of excellence which was recognised across the world.There was nothing which the shipyards could not handle – from warships to colliers and tugboats; ocean liners, bulk carriers and ferries; oil tankers, tramp steamers and paddle steamers; lightships, drillships and lifeboats. All of the vessels were once built, reconditioned and converted in South Tyneside by generations of highly skilled workers.The days of heavy industry in the yards have passed but they still form an integral part of the history of the area. Exhibition curator Adam Bell said: "Today almost all the yards are long gone, many now the location of desirable riverside apartments. Where an unrelenting cacophony of sounds once rang out – signifying the busyness of brawny gangs of workmen toiling night and day – now there is serenity."The work involved all sorts of skills. The army of workers included naval architects, draughtsmen and tracers; riveters, welders, markers-off and platers; caulker/burners, boilermakers, shipwrights and joiners; patternmakers, plumbers and electricians; fitters, turners, blacksmiths and riggers. Mr Bell added: "From labourer through to shipyard managing director, all played an important part in an industry which in turn brought prosperity to a long list of external suppliers, contractors and small businesses."There was sometimes a heavy price to pay among the communities as tragedy came with the endeavour of world-class engineering. Mr Bell said: "The yards were dangerous places to work where serious injuries and fatalities were sadly once all too common. But shipyard workers stuck together, looked out for one another, and came together in times of need. South Tyneside's yards were likened to big families, where several generations of family members did often work side by side. Camaraderie and humour provided a welcome distraction from a working environment which was at times unpleasant, and sometimes even deadly."
South Shields Museum & Art Gallery celebrates the rich heritage of shipbuilding and the people involved from is beginnings in the 18th century to the post-war boom when it was said you could almost have crossed the mouth of the Tyne by hopping from one ship moored against another.
Pushing the Boat Out: Shipbuilding and Ship Repair in South Tyneside runs from May 28 to November 12. To find out more go to www.southshieldsmuseum.org.uk