10 retro scenes as we put the spotlight on Cleadon - but how many do you remember?
We are putting the retro spotlight on another neighbourhood and this time it is Cleadon.
Wednesday, 28th April 2021, 5:09 pm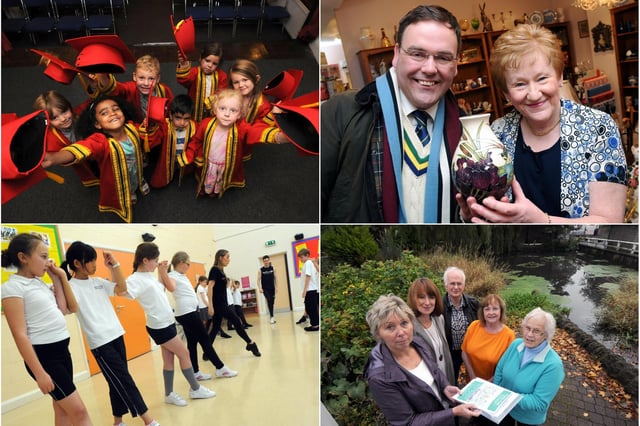 So many Cleadon retro scenes but how many do you remember?
Take a look at these 9 photos from our archives showing a kindergarten graduation, gardening scenes, and children practising Irish dancing.
There's more besides as well but why not take a look for yourself and then get in touch with your own memories.
Cleadon Village Kindergarten graduation at Cleadon Village Little Theatre. Remember this from 2013?
Cleadon Village C Of E Primary School pupils doing a workshop with the Riverdance performers ahead of their show at the Sunderland Empire in 2014. Can you spot someone you know?
Cleadon in Bloom committee members, left to right, Pam Marley, Mandy Murta, Eric Murta, Margaret Meling and Lesley Smith. They were working towards securing funding to restore Cleadon Village Pond in 2013.
Denise Graham with children from Cleadon Park at the Family Centre in 2013. Does this bring back happy memories?
Cleadon Park residents hosted a family fun day at Ridgeway Primary School 7 years ago. Coun Alex Donaldson was pictured with Lewis Sorensea aged 9 and Logan Smith aged 5.
BBC Antiques Road Trip's Paul Laidlaw visited Cleadon Antiques in 2014 and here he is with Judith Brown.
The Mayor Coun Fay Cunningham and Mayoress Stella Matthewson were pictured in 2014 with Equal Arts project artist Meg Middleton, and volunteers at Cleadon Park Library - but who can tell us more?
Former Vaux Manager, Geoff Porteous was pictured taking over the Cottage pub in Cleadon after a 7 year break from the trade. He was pictured with one of his bar staff, Sara Murray in 2013.
Cleadon Park Townswomen's Guild in the spotlight. Seated left to right are president Lilian Orr, chair Britta Daly, and secretary Joan Osbourne, with some of the members. But who can tell us why they made the headlines 8 years ago?
Coun Jim Foreman, left, lends a hand at Cleadon Park, during Love Parks Week. He is pictured with Green Exercise project officer Nicola Bruce, right, and volunteers. Remember this?
Is there a neighbourhood in South Tyneside that you would like us to spotlight in one of our retro features? Tell us more by emailing [email protected]