11 of your favourite teachers from across South Tyneside - is there another one you'd like to remember?
Teachers across South Tyneside do an amazing job – and have done for many decades.
Monday, 23rd March 2020, 3:39 pm
Updated
Wednesday, 25th March 2020, 7:34 pm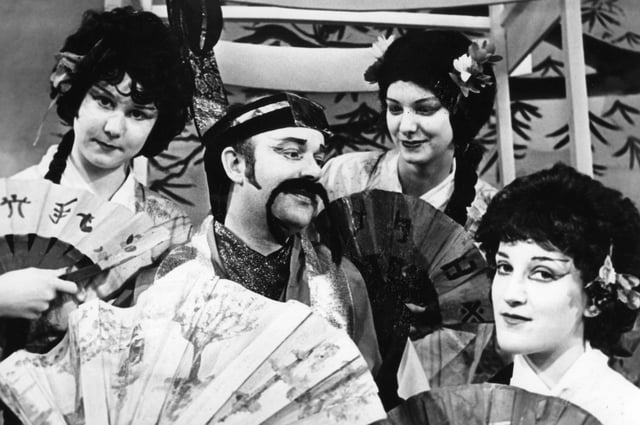 Gilbert and Sullivan's The Mikado performed by pupils from St Wilfrid's Comprehensive School. Playing title role is teacher, Michael Wiblin. Are you in the picture with him?
But which one was your favourite and are they included in our retro photo collection?
We have gathered some more images from the Shields Gazette archives, each showing a teacher who has given sterling service to the children of the area.
Take a look and see if you can spot a teacher who you knew and admired from your time in the classroom.
Class 2 pupils from Marsden Junior Mixed School pictured at the Centurion restaurant, with teacher Marjorie Woodmass, in 1988. Are you in the photo?
Back to 1981 for this view of Jennie Inskip, right, head teacher of Hedworthfield Junior School, Jarrow and Dawn Purcell. They were getting into the swing of things when the school held a fancy dress as part of their Jarrow 1300 celebrations. Does this bring back memories?
Teachers Bill Wimshurst and Mike Wiblin call the roll as South Shields schoolboy players muster for trials at Cleadon Recreation Ground. Remember this?
Teacher Ron Thornton was in the picture at Ocean Road School in April 1969. Were you taught by him?
Music teacher Valerie Green with some of the students in the guitar class at South Tyneside. Remember this?
Whitburn Junior School students were recording stars in 1988 and Ron is pictured far right on the back row. Does this bring back happy memories of your time at the school?
Head teacher Ina Keir is pictured left at the 1973 Brinkburn School annual prize giving. Do you recognise anyone else in the picture?
Back to 1988 and teacher Alison Galbraith is pictured kneeling at the back withClass 5 of Monkton Infants School. Do you remember this scene in the new wildlife area of the school?
Bill is pictured with the Harton Comprehensive under-12 team in 1979. Are you in the picture?
It's Red Nose Day in 1991 and pupils of Ellison Primary School, Jarrow were raising money for Comic Relief. Are you in the picture with the teachers?
Is there a teacher in this selection that you recognise? Get in touch and share the memories by emailing [email protected]