11 retro photos from Ridgeway Primary - from wearing shades to running a Sport Relief mile
Ten wonderful reminders from Ridgeway Primary. That's what we have in our latest spotlight on South Tyneside schools.
Monday, 31st May 2021, 4:55 am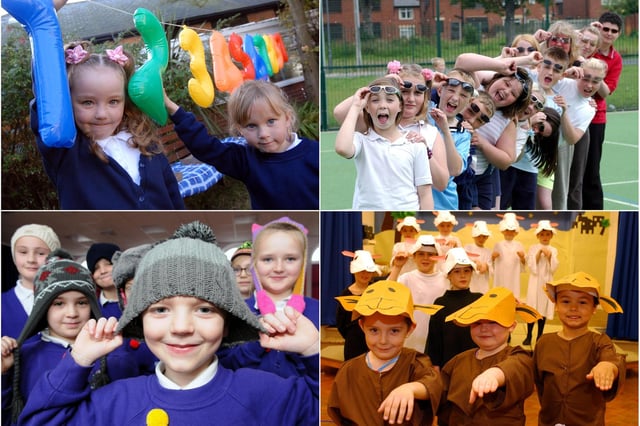 Lots of faces for you to recognise. Take a look.
Take a look at the pupils having a great time with a basketball star. How about the day that students wore bobble hats for charity?
Maybe you recognise the children wearing shades or the 'Christmas Bandits' in the Nativity.
We have all this and more in this retro feature. Have a browse through and then get in touch with your memories.
Would you believe it! This 'Shades For The Day' photo was taken 14 years ago. Can you spot someone you know?
England Under-21 hockey international player Kate Hendrick was a big hit when she shared her expertise with pupils 17 years ago. Are you pictured?
The festive season 18 years ago and here are the Ridgeway Primary School 'Christmas Bandits'. Recognise them?
A 2014 retro photo showing Ridgeway Primary School pupils wearing woolly hats in support of Age UK's Bobble Campaign. Does this bring back happy memories?
These pupils were running a mile to raise money for Sport Relief 13 years ago. Does this bring back happy memories?
A bus tour was on the schedule for these Ridgeway Primary School pupils 3 years ago.
The Newcastle Eagles were at Ridgeway Primary School as part of the school's healthy and wellbeing campaign in 2015. Remember this?
It was back in 2008 when pupils learned all about communication and how the Shields Gazette was produced.
A 2007 scene from the school. Does this bring back great memories?
Pupils Michael Rising and Maya Krawczyk helped to plant daffodil bulbs across Harton Moor Estate in 2014.
Angela Reed and these Ridgeway Primary School pupils were focusing on calligraphy in this 2014 view. Is there someone you know in the photo?
Did our retro selection bring back great memories for you? Share them by emailing [email protected]