9 photos you might recognise if you went to school in South Tyneside in the 1990s
They are the photos which are sure to bring back memories for a generation of South Tyneside children who went to school in the 1990s.
Sunday, 17th January 2021, 7:00 am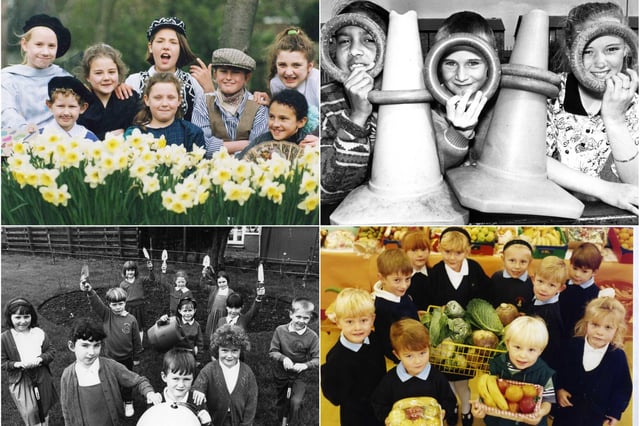 South Tyneside school photos from the 1990s. How many can you recall?
This collection of images from the Shields Gazette archives showcase schooldays 30 years ago.
They feature primary and comprehensive schools from back in the day.
But did you go to any of them? Or perhaps you can spot someone you know.
The Mortimer Road Junior School harvest festival in 1996. Can you spot someone you know?
Take a look and then get in touch with your own memories.
Back to June 1990 for this view of the St Mary's Church of England Junior Mixed and Infants School annual summer fete. Left to right are Kitty Kaur, Clint Kennedy and Lynsdey McDonald.
Can you recognise the Whitburn Junior School pupil enjoying book week in March 1994?
Pupils at Highfield Infant School taking part in a new countryside scheme in April 1993. Is there someone you know in the photo?
Whitburn Junior School in April 1992. Left to right are Kris Oliver, David Moody, Emma Harbottle, Carlie Watson, Amie Happer, Crystal Butler, Sarah Otun, and Samantha Bell, in their European costumes. Can you tell us more?
Who can tell us more about this 1991 photo from King George Comprehensive School? Pictured left to right are Billy Maddison, John Elsy, Christopher Brown, Tracey Lowdon, Karen Foster, Craig Duncan and Elaine Watkins.
A July 1994 photo at Mortimer Comprehensive School but who is in the picture?
Staff and pupils from King George Comprehensive School line up to celebrate taking part in the Yellow Brick Road walk. Are you among them?
St Anne's Mixed High School Nativity in December 1996. Remember it?
We hope these photos brought back great memories. If they did, email [email protected] and tell us more.