Miners' Strike 35 years on: 15 pictures of life down the pit in South Tyneside
This week marks 35 years since the end of the miners' strike so we have looked back to what life was like for miners in the borough back in the day.
Thursday, 5th March 2020, 4:45 pm
Updated
Friday, 6th March 2020, 10:32 am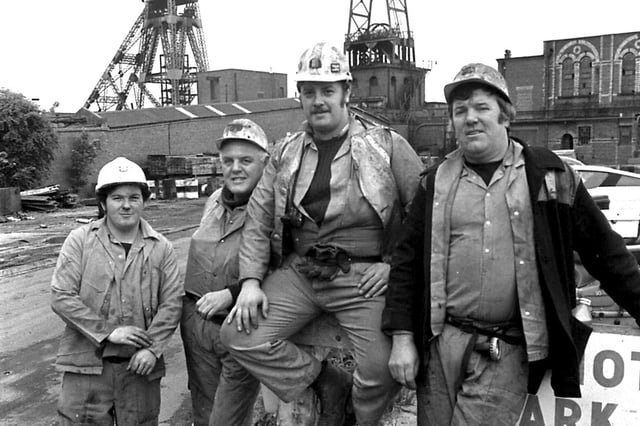 Sixteen miners donned their steel hats and entered the cage at Boldon Colliery for the last time on Thursday, June 24, 1982
Join us on a trip down memory lane, as we take a look back at life down the pits in South Tyneside.
July 1983. The banner may be battered, the pit closed but the spirit of the Marsden Lodge lives on.
Whitburn Pit, which closed in 1968.
Miners coming off picket duty queue up for soup and tea at a kitchen set up for them and their families at Boldon Miners Hall in February 1972.
Striking miners and their families stage a protest march to highlight the threat of electricity being cut off at miners' homes because of non payment of bills, in May 1984
Pickets stand guard at Westoe's main gate in October 1986.
Glenn McCrory (left) pictured at Westoe pit in 1989, just after winning the world cruiserweight title, with his uncle Westoe miner Arthur Barrass.
Westoe Colliery miners, left to right: J W Cranson of Consett; J W Rowlandson, O Bassett, and H Malcolm all of South Shields.
The banner of Harton and Westoe Miners' Lodge hangs high outside the empty buildings of Harton Colliery, closed almost a year ago. Lodge officials and members pictured outside the former pit before marching to South Shields station on their way to the Durham Gala in July 1970.
Boldon Colliery, which closed in 1982.
Boldon Colliery pit head and employees in November 1969.
Arthur Blenkinsop, Labour candidate for South Shields, talking to miners George Falconer, Bill Bissett, Ronnie Moffatt, during a visit to Westoe Colliery in October 1964.
The Westoe Lodge banner is paraded through the streets of Durham at the Miners' Gala in 1983.
German sculptress and nun Tisa Schulenburg talks to overman Mr Russell Atkinson before going down to sketch miners at Westoe Colliery.
Sixteen miners entered the cage at Boldon Colliery for the last time in June 1982.
Production at Boldon Colliery reaches a new peak of 10,623 tons - well above the national average, in January 1968.