Thirteen reminders of how South Shields and South Tyneside loves having a laugh
We all deserve to enjoy a smile in the current challenging climate.
Monday, 23rd March 2020, 11:50 pm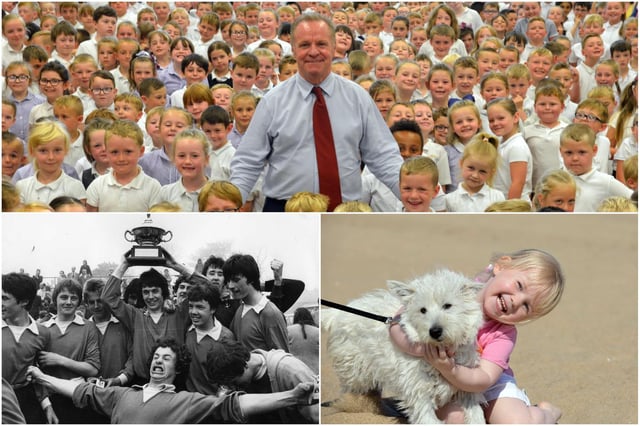 Don't we just love a smile here in South Shields and South Tyneside.
So we thought we would raid our photo archives to remind you just how much South Tyneside loves having a laugh – and we hope it won't be too long before we will all do so again.
Hebburn Lakes Primary School head Tony Watson is surrounded by pupils as he retires in 2019.
Many of us could do with the Braveheart spirit shown by these fundraisers at the Cancer Connections Boxing Day Dip, at Littlehaven Beach, South Shields, in 2015.
The South Tyneside Summer Festival concerts in Bents Park, South Shields, always cheer people up - and we are sure they will do so again.
Ella Ogden, aged three and from Jarrow, enjoys the 2015 April sunshine at Sandhaven Beach with dog Belle.
A runner celebrates completing the 2019 Great North Run.
Susan Tully and Nell seem happy to be reunited with each other after Nell went missing in South Shields in 2016.
Stock room assistant Graham Robinson in drag raising money for Guide Dog for the Blind back in 1987. He is pictured with Woolworth colleagues Jennifer Swinney, Graham Robinson, Ann Ainsley, Karen Steven, Cheryl Wall, Margaret Simon.
Singer Joe McElderry has never forgotten his home town of South Shields since finding fame. Here he is pictured having a laugh while visiting Cancer Connections, in South Shields, in 2013.
South Shields football fans celebrate while watching the club's 2017 FA Vase victory at Wembley on television.
Happy Reyrolle Juniors players after winning South Tyneside's International Youth Soccer Tournament in 1979.
Children at the Happy Shack breakfast and after school club, in East Boldon, celebrate a good report from education inspectors in 2011.
Smiles all round for Gary Tate, Nathan Thompson, Alex Burrell, Michael Johnson and Jay Peterson after getting their GCSE results at St Wilfrid's College, in South Shields, in 2015.
King Street shop assistants Tracy Price, left, and Diane Holmes, both of South Shields, manage a smile despite the rainy South Shields weather.