EV charging: National Highways splashes £8m on shipping containers filled with batteries for motorway charging
National Highways is to use giant battery arrays in shipping containers to address grid supply issues at service stations
England's highways agency is to use shipping containers packed with batteries to help improve electric vehicle charging on the country's motorway network.
National Highways has announced an £8 million deal which will see the innovative energy storage solution rolled out at seven service stations with poor national grid connectivity in an effort to improve high-speed charging provision.
The move aims to ensure that every motorway service area in England will have at least six high-powered public chargepoint by the end of 2023 and, says the agency, aims to reduce charge anxiety among motorists.
National Highways' energy storage systems deal will see "grid-scale" batteries housed in 40-foot heated and air conditioned shipping containers at each location. These batteries will charge at periods of low-demand in order to power chargepoints of up to 150kW at high-demand times. Each system has a typical storage capacity of 2MWh, enough to support over two million miles of zero emission motoring each year.
The service stations getting the new power solution are:
Beaconsfield on the M40
Corley on the M6 Northbound
Clacket Lane on the M25, both Eastbound and Westbound
Maidstone on the M20
Taunton on the M5 Northbound
Tebay on the M6 Northbound
Malcolm Wilkinson, head of energy at National Highways, said: "By supporting the expansion of the high-powered chargepoints network, we hope to increase EV drivers' confidence for all types of journeys, both long and short. These new energy storage systems and the high-powered chargers they supply will help ensure that motorists are unlikely to be caught without somewhere to charge."
The agency described the systems as a temporary solution until those motorway service areas can obtain increased power directly from the grid.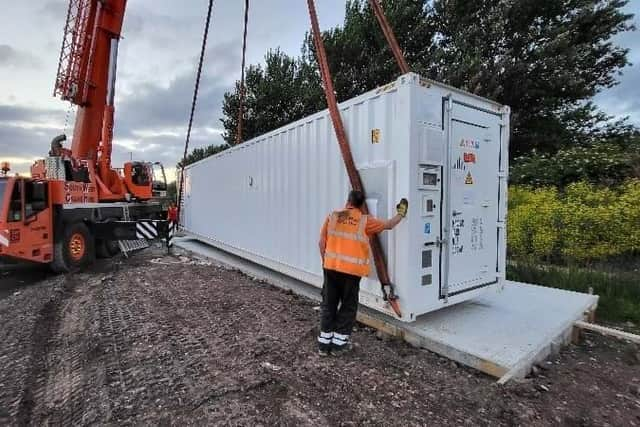 The move comes as the government also announced £56m in funding for councils in England to improve public charging provision. The money, from government and private industry, will help fund the installation of 2,400 more chargers in locations such as Cumbria, Norfolk, Oxfordshire and West Sussex.
A total of 16 more local authority areas will receive money as part of the Local Electric Vehicle Infrastructure (LEVI) pilot scheme, along with the the three original pilot schemes in Durham, Barnet and North Yorkshire. The funding will also support the existing On-Street Residential Chargepoint Scheme.
Transport minister Jesse Norman said: "The government is giving local authorities across England additional help today to energise their chargepoint roll-out plans.
"Today's commitment will lead to thousands of new chargers being installed, and plans for tens of thousands extra in due course, so that more people than ever can make the transition to using EVs."
Last year, 8,680 new public chargers were installed, taking the country's total supply to 37,055 - a 31% increase on the previous year. However, in the same period, sales of pure EVs rose 40% and plug-in vehicles - including hybrids - accounted for 23% of all new cars registered in the UK in 2022.