Osprey EV charging: Why has its price increased to £1/kWh and will other network prices rise?
Charge point operator becomes UK's most expensive with second price rise in two months but experts warn more could follow without government action
Watch more of our videos on Shots! 
and live on Freeview channel 276
Visit Shots! now
Public EV charging network Osprey has increased its prices to £1 per kWh with immediate effect.
The 50% increase is the firm's second price rise in two months and comes as the EV charging sector faces mounting energy costs. It makes Osprey the UK's most expensive public charging operator by a significant margin, leapfrogging Ionity, which charges 69p/kWh.
The increase from 66p/kWh to £1/kWh comes into effect from 15 September for pay-as-you-go customers and from 1 October for Osprey app account holders.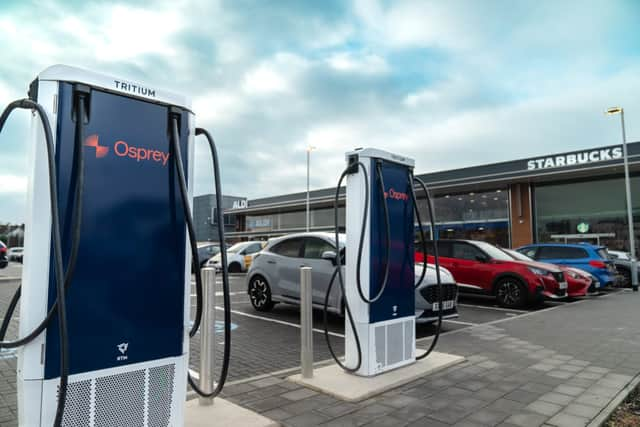 The jump in price means that a typical 10%-80% charge of a 64kWh EV such as a Kia E-Niro has jumped from £29.57 to £44.80. Prior to Osprey's August price rise the same charge would have cost £17.92.
In a video statement announcing the increase, Mr Johnston said the move was a reaction to the "sky-high" cost of energy prices affecting homes and businesses.
He said: "Unlike residential customers, to date there has been no cap on the price that businesses pay for their electricity. In recent weeks the price of electricity has risen to more than three times what it was this time last year.
VAT cut needed
Osprey's announcement comes a month after rival rapid charging network Instavolt increased its prices to 66p/kWh. At the time, it said the unprecedented rises in the energy market had forced it into action and called for the Government to cut VAT on public chargers to from 20% to 5% to bring it in line with domestic rates. It said such a move would enable it to drop prices back to 58p/kWh.
Ben Nelmes from transport research body New AutoMotive said the move by Osprey was regrettable but warned other operators may follow suit unless the Government steps in. He told National World: "Sky-high energy costs and uncertainty about what they mean for the future are affecting businesses across the UK, and charge point operators are no exception. Charging providers across the UK are dealing with the same circumstances that have driven Osprey's decision. Given this, it is very likely that, if the Government doesn't act soon, more and more providers will follow suit and raise their prices."
Mr Nelmes called on new Business Secretary Jacob Rees-Mogg to clarify details of the Government's support package for businesses to help operators manage their prices, and urged the Chancellor to cut VAT on public charging points in line with domestic costs.
He added: "The Transport Secretary should also urgently bring forward regulations to improve pricing transparency so that consumers can shop around and find the best deal when they want to charge their EV."
Osprey's Mr Johnston warned that unless addressed, rising prices could harm the development of the UK's public charging network. He said: "The prohibitively high electricity price jeopardises the rollout of UK charging infrastructure, into which networks like us are investing hundreds of thousands of pounds per site to build and maintain. It also poses a risk to the pace of transition to cleaner transport."