Review: Subaru Solterra
The Solterra is Subaru's first electric car. Julie Marshall spends a week testing it out.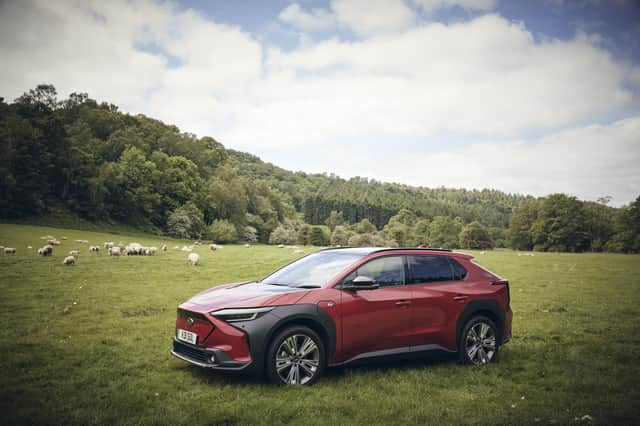 Subaru's first electric car is the Solterra SUV and it is a comfortable all rounder with all-wheel drive.
It is also the most technically advanced Subaru ever built.
We drove the £55,495 Touring version with 20in wheels which boasts a range of 257 miles at 100 per cent charge. There's also a slightly cheaper Limited model costing £52,495 with 18in wheels and a better range of 289 miles.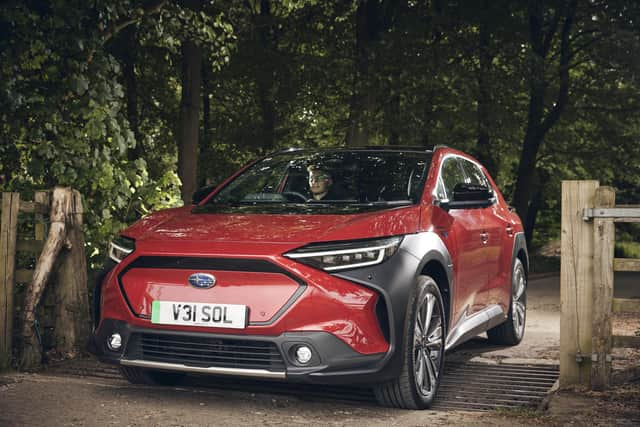 The battery range of electric cars is going up and the charging infrastructure is getting better but there is still room for improvement.
We drove the Solterra for a week during a balmy spell of weather in early autumn so didn't need to overload the system by way of using the heated seats and steering wheel, screen defrosting or cabin heating - all things that can drastically deplete the battery in double quick time. Most of our miles were done during daylight hours as well.
Charging times from a 7.5kw system are around seven to eight hours or if you have access to a fast charger, 30 minutes should take you up to 80 per cent capacity. We had neither so relied on an overnight charge on a domestic system to top up the battery.
We started off our test with an almost full battery and 239 miles of power to play with. Journeys totalling 113 miles used 145 miles of that and took the battery down to 43 per cent.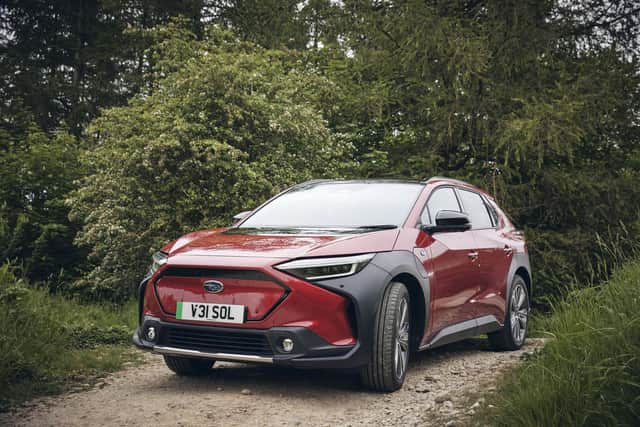 Anyone using it in the winter needs to be aware that this range will be a lot less and plan accordingly.
That said, the Solterra is well equipped for bad weather with traction settings for a range of situations such as deep mud, snow and slippery conditions by way of the X-mode button. It also comes with hill descent control for added security and safety under tricky conditions.
The Solterra is a good looking car with a pleasant face and a neat rear spoiler. It has plenty of room for five and the rear passengers are well looked after with heated seats, an armrest with cup holders and a slot for a phone. There are two USB-C ports.
There is enough storage space for the usual trappings and the boot holds up to 452 litres. The seats fold flat and there is space under the floor for the charging cables and cargo cover.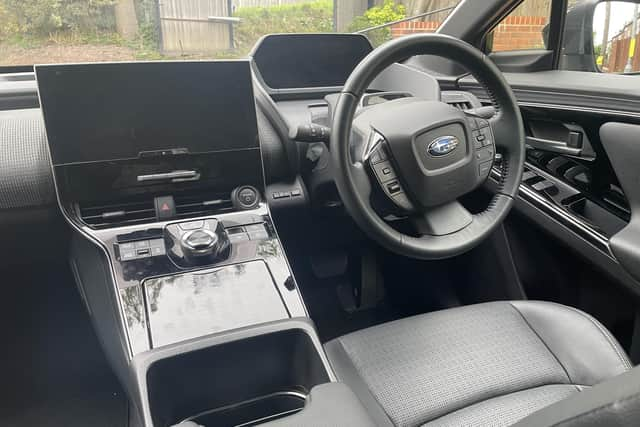 The kit list is impressive, particularly with regard to safety features. These include adaptive cruise control, driver monitoring, 360 degree camera and pedestrian and vehicle alerts.
The interior is comfortable enough but there is a predominance of black plastic which detracts from the plushness, somewhat.
Convenience features include wireless phone charging, wireless Apple CarPlay and wired Android Auto, satellite navigation and a DAB radio.
I must confess to not using the navigation very much - I tend to stick to the apps on my phone for ease of use.
The drive is comfortable, even over bumps and it accelerates very briskly from 0-62mph in 6.9 seconds.. Braking is smooth.
Transmission: single speed electric all-wheel drive