Where can I see Santa in the North East? - From socially distanced St Nicks to virtual Kris Kringles
Christmas might be a little different this year but there are still plenty festive events in and around the North East to get you in the Christmas spirit.
Saturday, 12th December 2020, 1:23 pm - 2 min read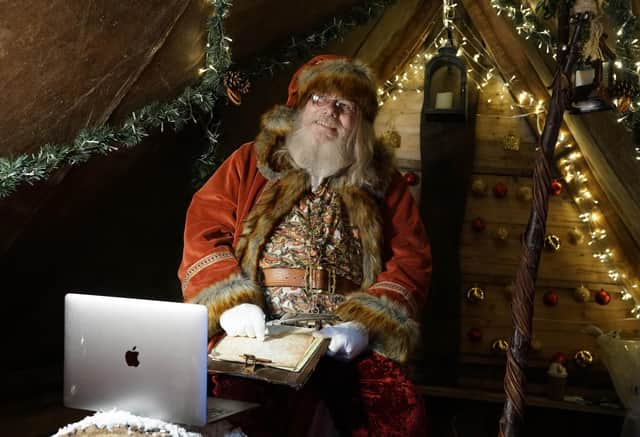 Father Christmas learns how to use Zoom on a laptop in the grotto at Bamburgh castle in Northumberland,
This Christmas will be like no other after a year of lockdowns and restrictions many Christmas events have been cancelled due to the pandemic.
But there are still virtual and socially distant experiences to enjoy over the festive period.
With most of the UK under the strictest tiers, tier 2 and 3, as well as social distancing still in place this year's Santa experiences have proved difficult.
Children will still be able to meet Santa Claus at events across the North East, while adhering to the government's social distancing and face covering guidelines.
And there will still be the option to speak to Santa virtually and over the phone!
Here is where youngsters can see Father Christmas:
You can have a magical personalised Father Christmas experience via Zoom at Bamburgh Castle.
The event is running until December, 23 and tickets cost £14.95 per child.
For booking information click here.
Northumberland St, Newcastle upon Tyne NE1 7AS
You can meet Santa on the rooftop at Fenwick in Newcastle and help the elves decorate gingerbread biscuits before being treated to a complimentary marshmallow topped hot chocolate and slice of cake.
The event is running until December, 24 and tickets cost £12.50.
You can find booking information here.
Santa's Grotto at Liberty Brown
The Palm, Timber Beach Road, Sunderland, SR5 3XG
You can visit Santa and his elves every Saturday and Sunday throughout December.
Tickets cost £9.95 per child.
Children can train as Elf Helpers in Santa's Winter Woodland throughout December at West Boldon Lodge.
Tickets cost between £12 and £18.
More details on booking can be found here.
Hartlepool Round Table are offering personal video calls for children after cancelling meet and greet Santa events.
There is a £5 donation charge with all proceeds to be donated to local causes by Hartlepool Round Table.
To book your child's call go to the website.