Feelin' peachy? Camden Town Brewery launches a fresh take on the classic cocktail: Bellini Lager
We all know the famous saying: when life gives you peaches, make…bellinis! The warmer months are nearly here (finally!), and we've been busy brewing something extra special for all our fizz fans out there. Introducing our own beer-y spin on the classic cocktail: Bellini Lager. Because why should fizzy wine have all the fun?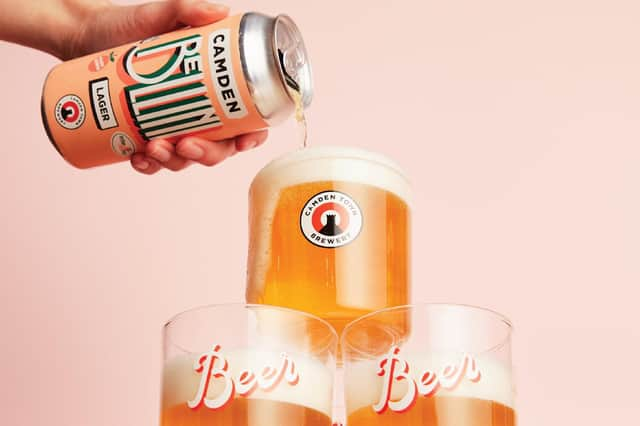 We took inspiration from the iconic combination of bubbly prosecco and juicy peaches to create a beer which is just as refreshing as it sounds. A crisp lager with peach puree for fruity flavour, Bellini is the ultimate summer sipper. Sounds peachy, right?
Perfect for enjoying in the sunshine with pals, we have gone larger with this lager, with our juicy Bellini available in a bigger 440ml can. Full of peachy tea notes and brewed with wine-like hops, Bellini is packed with fresh flavour just like your favourite fizz (but more fun, obvs.)
The peachiest part? Our summer seasonal is ripe and ready to enjoy RIGHT NOW. It's only here for a good time, not a long time, so get it quick before it's gone. Bottoms up!
Fred Nesbitt, Head of Marketing at Camden Town Brewery, said: "We regularly launch seasonal beers and it's something we know our beer fans get excited about – and who could blame them? Bellini is a crisp but juicy lager that we've tried and tested at Camden HQ, and now it's the perfect choice for summer '23. We are seeing peachy drinks pop up in lots of different categories, and although our Bellini lager may sound extra fancy, at its heart it is still a really fresh and delicious beer."
So, what are ya' waiting for? Our new Bellini Lager has an ABV of 5.2 per cent and is available to purchase for £3 in 440ml cans at Sainsbury's, Waitrose, Morrisons, Co-Op and on the Camden webshop at camdentownbrewery.com website.