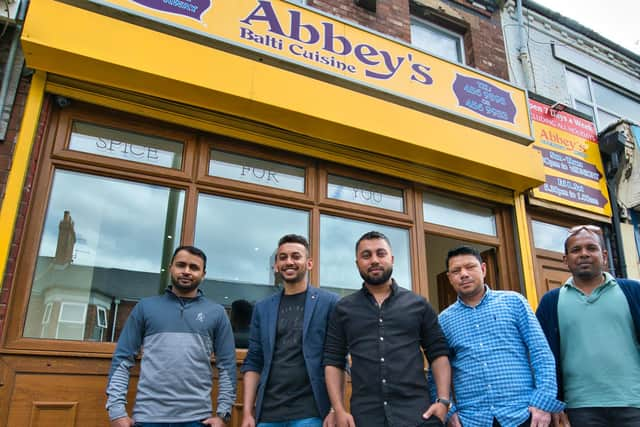 Owner of Abbey's South Shields, Rubel Jamal - center, with chefs from the takeaway.
After spending many years managing and operating Abbey's in Hebburn, Jamal has brought the previously closed Abbey's South Shields back to life.
Originally Abbey's Hebburn, located at Ann St, was opened by his father Abdul in 2009. Known by customers as Abbey, he had spent many years running a previous takeaway in Bede Trading Estate and chose to relocate. Tragically, Abbey passed away in 2012, which is when Jamal took the reins since learning the trade from 1998.
Bari, Abbey's business partner, operated the South Shields takeaway on Stanhope Road, which was an expansion of the original Hebburn Abbey's. Unfortunately his passing in 2019 resulted in it's closure, with Jamal now stepping in to re-open the takeaway.
Abdul Nur Ullah (Abbey) - 06/11/1958 to 25/08/2012
Both takeaways were well known for their great food produced by talented chefs, which is why Jamal wanted to continue his dad's legacy, and give the customers of the takway what they had really missed.
"The customers have always loved the food, and regularly praise the chefs who have been with us since the beginning, training up new members of staff to deliver a constant high quality." Jamal told us.
"They are freshly made on our premises with locally sourced ingredients to help keep the local economy in South Shields alive."
For anyone looking to try some exciting food, with a real sense of flavour, Jamal recommends you should start with a chicken korma to see how they bring a traditional dish to life. If you are feeling bold, then a chilli chicken masala will really set your taste buds on fire.
For those looking for a mix of everything, Abbey's also offers a variety of ready to eat box, including the chicken-bab from £6.50, the deluxe-bab from £6.95 and the curry-bab from £7.95.
Both takeaways are also available on many food ordering apps to make it easier for customers to get delivery of their favourite dishes.
For the future Jamal hopes to continue providing great food to the local people, maintaining both takeaways, with a dream to expand into opening a sit-in restaurant.