New build homes: report shows carbon footprint and financial savings for new home buyers in North East of England
A major homebuilder in the North East of England has welcomed a report which shows how new build homes can save owners thousands on energy bills.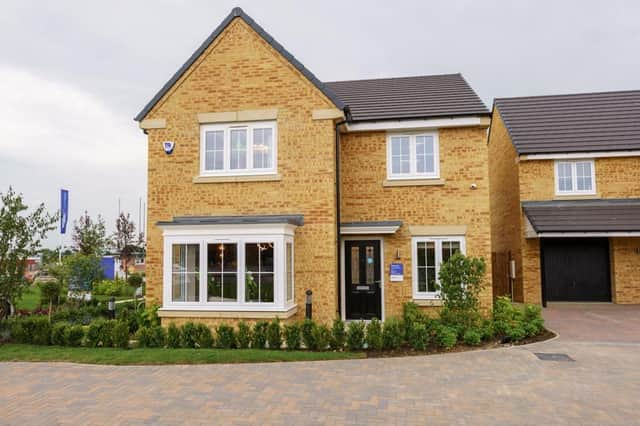 The national report that has found new build home buyers could save up to £2,000 a year in energy bills.
The 'Watt a Save' report – which analyses Government data on the energy efficiency of new build and existing homes - revealed buyers of new build properties will save on average around £2,000 a year in energy bills and reduce carbon emissions by over 2 tonnes per property.
Collective savings of £500 million
The findings also show that energy efficiency is now a key consideration for one in four buyers when purchasing a home and that, collectively, new build home buyers across the UK are saving over £500 million.
On top of these dramatic savings, buyers of new homes are also contributing to the UK's progression towards net zero, with each new build producing just a third of the carbon emitted by older homes, a significant saving of 2.2 tonnes of CO2 every year by using on average 100 kWh of energy per m2 of house space compared to 259 kWh per m2 for an older property.
Stewart Baseley, executive chairman of the HBF, said: "The energy crisis is highlighting starkly the efficiency benefits and cost savings provided by new build homes.
"Energy efficiency is a growing priority for house hunters and the financial savings clearly demonstrate why. In the face of the cost-of-living crisis we now need lenders to take these savings into account so that consumers can benefit further through cheaper mortgages."
The report also highlighted that 84% of new build homes were rated with an EPC of B or above, while less than 4% of existing dwellings reached the same standard.
Not only are new homes built to the most up to date regulations, but housebuilders are demonstrating their commitment to go further, using new technologies and methods to build ambitious examples of new homes and ensure efficiency is embedded to the highest standard from the point of construction.
National housebuilder Miller Homes is one of the most active housebuilders in the North East, with nine developments currently underway from Corbridge, Northumberland to Chester-le-Street, County Durham. It has built over 600 local homes in the past two years, using modern building methods with economic and environmental beneits.
It says these changes – as outlined in this week's HBF report – will be key to addressing the region's gaping housing shortage and bringing more developments to market.
Aisling Ramshaw, Regional Sales Director for the North East at Miller Homes, said: "There are a lot of myths surrounding new build homes which can often put prospective buyers off the idea of purchasing a new property, so it's fantastic to see research such as this helping to put to bed some of the misconceptions out there.
"Purchasing a newbuild property has so many benefits, from providing you with a blank canvas to design your dream home to significant reductions in costs and carbon emissions when compared to older properties.
"Add to that the fact that the UK is currently in the midst of its most chronic housing shortage in a generation, and it's never been so important to drive home the many benefits of buying a new build."
Miller Homes is also incentivising* the take-up of new build properties, including paying up to six months of their mortgage; covering stamp duty fees; free energy bills for two years and £1,000 towards Option Vouchers for eligible buyers.
The housebuilder also recently announced its Deposit Unlock scheme for selected developments in the North East, providing those looking to purchase their first home or move to a larger family home with the opportunity to do so by putting down a 5% deposit which could be as low as £9,498.
For more information on Miller Homes North East and its various incentive schemes, visit: https://www.millerhomes.co.uk/locations/north-east-of-england.aspx
Incentive Terms & Conditions
6 months mortgage and 2 years bills paid
Offer is plot and development specific and subject to completion by 31st March 2023. Amount offered (if any) will be based upon the monthly mortgage payments in the purchaser's mortgage offer subject to a maximum payment of £6,000. Energy bills payment is based on the government's energy price guarantee that a typical household in Great Britain should pay on average £2,500 a year on their energy bill, for the next two years, from 1st October 2022. Maximum payment of £5,000. Total offer payment must not be more than 5% of property purchase price. Payment made by deduction from funds due on completion. Cannot be used in conjunction with any other offer or purchase assistance scheme. Subject to lenders approval. Only available on new reservations taken on or before 31st October 2022. Miller Homes reserves the right to withdraw or extend the offer at any time.
Stamp Duty Land Tax paid offer does not apply to the higher Stamp Duty Land Tax rate for additional residential properties, if payable. Offer is subject to Miller Homes' standard terms and conditions and cannot be used in conjunction with any other incentive or offer nor exchanged for cash. Miller Homes reserves the right to withdraw the offer at any time.
Options vouchers cannot be exchanged for a cash or discount alternative. Voucher to be redeemed against Miller Homes options range only. Subject to build stage and available on selected plots only. Choice and availability may vary across developments. Please see Development Sales Manager for more information.
Deposit Unlock cannot be used with any other financial incentive and is only available on selected plots on selected developments. Subject to eligibility, terms and conditions.
*Your home may be repossessed if you do not keep up the repayments on your mortgage or any other debt secured on it.
*All offers and incentives are available on selected plots at selected developments only. Miller Homes reserves the right to withdraw the offer at any time.