Here are 11 signs that spring has arrived
A host of golden daffodils. The first real splash of colour after a grey winter, the yellow trumpet-shaped flowers herald that spring is on its way.
Published 4th Mar 2023, 00:00 BST

- 2 min read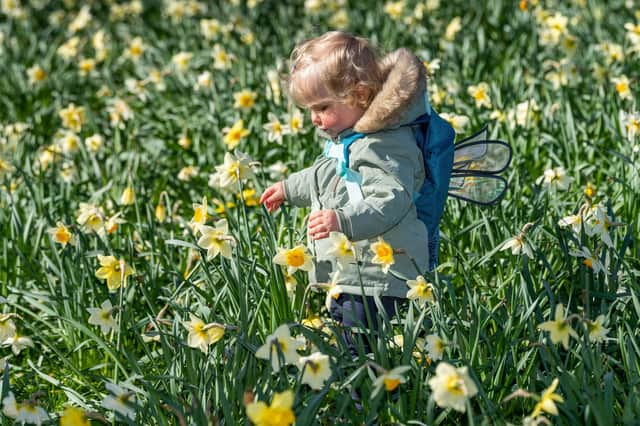 It's the spring equinox on March 20, meaning that the season is officially upon us but there are signs that we are leaving winter behind us long before then.
Bursting with the promise of sunny days just around the corner, these joyful yellow flowers blossom from late February to early April. Daffodils also symbolize creativity, energy, resilience, forgiveness and vitality. As William Wordsworth wrote: … all at once I saw a crowd, A host, of golden daffodils; Beside the lake, beneath the trees, Fluttering and dancing in the breeze.
Hedgehogs, dormice and bats all hibernate. As the weather gets warmer, they are all venture out for food and to mate. Evening is the best time to see all three, as they are nocturnal creatures.
The brief blossoming of rowan, wild cherry and hawthorn is a magical spectacle, wreathed in ancient folklore. A fleeting but fabulous burst of cherry blossom is one of the most breathtaking signs of spring.
The African visitor arrives in April hunting for the year's first tasty insects and remains here until September.
Bluebells appear across the countryside in early April and into May and can be traditionally found in woodlands and can also be seen in hedgerow verges and parks.
They inspired a children's playground game called In and Out the Dusty Bluebells. It was formed in the 20th century and although it enjoyed great popularity amongst girls during the 1960s and 1970s, its popularity had waned by the 2000s.
The warmth of the sun awaken queen bumblebees, who need plenty of nectar in March and April to recharge their batteries as they go hunting new places to start a colony. When she has found a suitable nest, the queen makes a mound of pollen and secreted wax into which she lays her first brood of eggs.
Out of the UK's bee species, 24 are bumblebees. These are also social bees, though colonies are significantly smaller and vary slightly depending on the species. A well-established colony could comprise of up to 400 bees.
The birds are in full song with their morning melodies by early March as they seek to attract mates and defend their territories. The early-worm-catchers are the skylarks, song thrushes, robins and blackbirds.
Tradition has it that spring is not here until you hear the first cuckoo, whose name mimics its call. In late March and early April, these migratory birds are arriving from Africa, ready to lay their eggs in other birds' nests.
Mad March hares really do box. It's the females boxing away the attentions of the amorous males. Hares have become rarer in recent times but the best place to look out for them is in the bare spring fields that border the forest.
Sheep mostly have their lambs in early spring as they also need to eat lots of fresh grass so that they can make milk for their lambs.
Clocks spring forward an hour on March 26.