Outdoor battery doorbell with 5MP resolution, built-in spotlight, AI human detection and two-way audio
IMOU DB60 outdoor battery doorbell with 5MP resolution, built-in spotlight, AI human detection and two-way audio - available from Very for just £139.99 and includes the DS21 chime.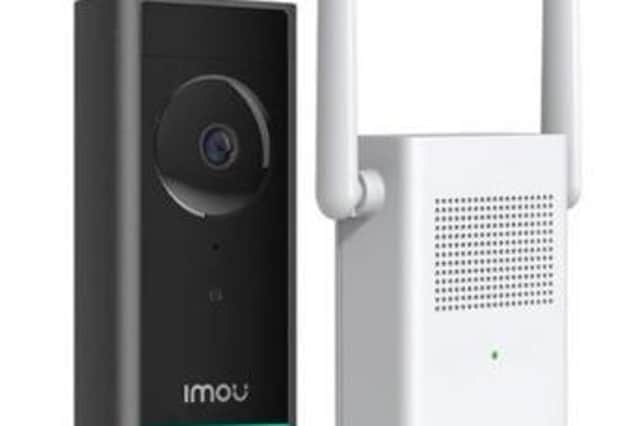 The wireless DB60 doorbell delivers high quality images thanks to its 5-megapixel resolution and it easily captures all details with the wide 164-degree fish eye lens.
The DB60 features two-way talk and quick response, ensuring you can see and answer visitors from anywhere at any time in a practical way.
The battery can last up to 6 months under normal conditions and it is also IP65 certified to withstand any weather condition.
With night vision included, you can get clear images even in pitch dark.
Recordings can be saved locally via a SD card or NVR, but you can also opt for Cloud service. Included in the DB60 kit is a chime to ensure you always hear the ring of the bell, even if you do not have your smart device at hand.
The H.265 image compression technique used ensures high-quality recordings and streams take up relatively little space and thus require less bandwidth.
In this way, the available storage space and bandwidth can be used optimally. The Imou DB60 video doorbell uses 2.4 GHz WiFi and offers a great stable connection in combination with the Chime which is also a Wi-Fi extender
The DB60 features a wide fish eye lens providing a head-to-toe view of every person in front of your door. You can listen and respond to visitors with the two-way talk function. Which is also handy when you have a parcel delivery that can be left by the door.
In addition, the DB60 has a quick response feature, making it possible to reply to visitors with pre-recorded messages. Thanks to the high-end motion sensor and smart AI algorithm the DB60 sends out real-time notifications when someone is detected. In the settings you are able to set the detection region to only focus on specific areas.
This video doorbell features a rechargeable battery. Fully charged the 6,200mAh battery can last up to 180 days under normal circumstances, based on 5 minutes of recording per day.