Bridgerton: the Regency-set drama is influencing fashion, from tiaras, puff-sleeves, to empire lines – how to work the trend
The Netflix sensation Bridgerton has done more than simply set viewer's hearts aflutter: it's sent people online in droves seeking to replicate the stunning, glamourous outfits in their modern fashion choices.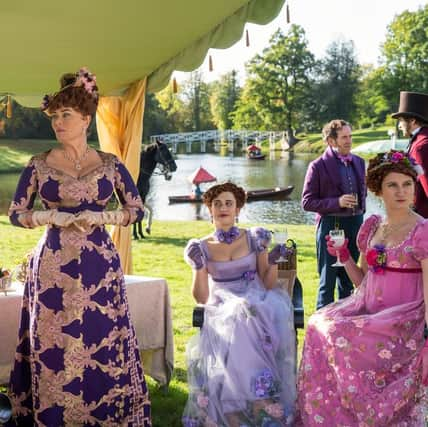 This article contains affiliate links. We may earn a small commission on items purchased through this article, but that does not affect our editorial judgement.
This article contains affiliate links. We may earn a small commission on items purchased through this article, but that never affects our editorial judgement.
Want to hazard a guess as to what last week's number one retail search trend was in Google? Not mid-winter thermals, or even educational tools for home-schooling. No – it was tiaras.
Lockdown shoppers were looking to add a little glam to their lives by buying bejewelled hairpieces and crowns, a trend no doubt tied to the 82 million views Bridgerton has received on Netflix since dropping on Christmas Day 2020.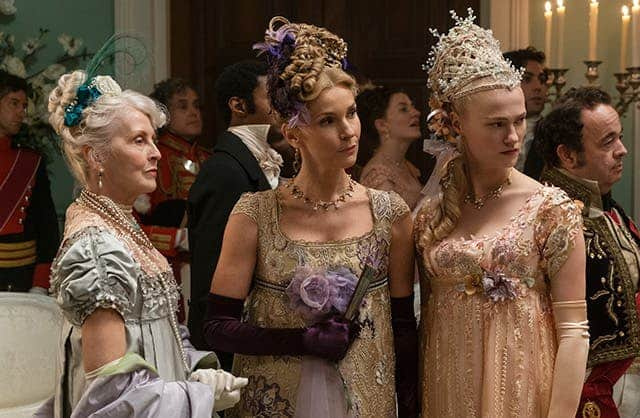 Online fashion retailers Lyst corroborate the trend: they've named the it "Regencycore" and noted that since Bridgerton dropped, searches for corsets, pearl and feather headbands, long gloves, and empire line dresses (the era-defining dress silhouette) have all soared. Over on RewardStyle, they've reported a 1000 per cent search increase in embroidered dresses, while silk dress searches are up a whopping 3900 per cent.
It seems while we're all still stuck at home, people are tiring of lock-down slobbery and seeking to bring a touch of high-fashion fantasy to their looks.
It's no wonder: the clothes in the sexy, gossipy drama weren't intended to be 100 per cent true to the Regency era, but they were designed to never be less than absolutely spectacular. Costume designer Ellen Mirojnick created 7,500 looks for the show's first, eight-episode season, saying she wanted "ice-cream pastels, acid-bright florals, acres of ruffles, rhinestone-encrusted puff sleeves, and wigs that could rival Marie Antoinette's." Which was precisely what she delivered.
Predicting fashion trends is never an easy business, but the transition of the 'Bridgerton look' from on-screen to real-life has still surprised fashionistas, who did not anticipate such elevated looks to influence style so much, particularly as people were stuck at home.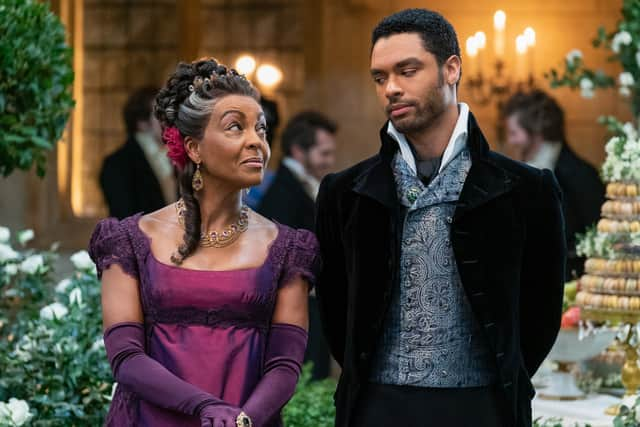 The co-founder and president of RewardStyle, Amber Venz Box, explains it by saying people are seeking escape, "buying things for when we can go out again gives people a sense of hope and something to look forward to."
It doesn't hurt that the 'Bridgerton look' is at once fabulous and flattering. Jewels, headbands, feathers are embellishments easy to add to any outfits, while empire-line dresses are forgiving to wear, billowing and loose, while amping up the cleavage for high impact.
Of course, as with all things, seeking to recreate a show's look precisely may make you look a little eccentric, rather than stylish. However, if you want to stay on trend, here is our Bridgerton edit, complete with modern updates on 'Regencycore', to give you a taste of that extravagant Regency life: even if you are in your living room, watching Netflix.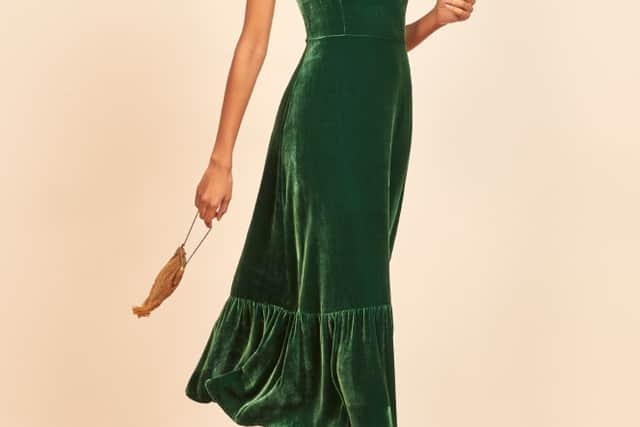 This gorgeous gown captures so much of the Bridgerton look, from the rich, jewel tones, to the lavish fabric, to the decolletage-accentuating sweetheart neckline. Fit for a duchess.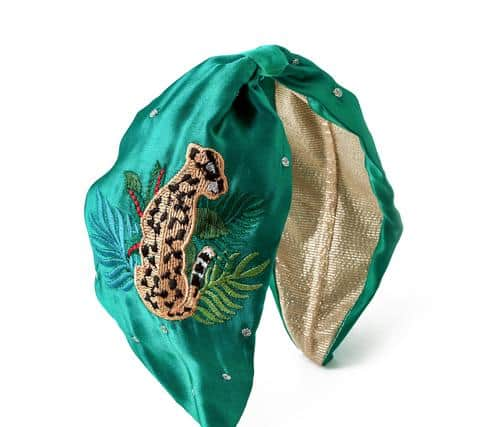 The fashion style of Lady Danbury is utterly covetable: she wears stunningly designed brocade, lavish jewellery and eye-popping head-dresses. Get the look with this beautiful, embroidered headband, which sparkles with diamantes.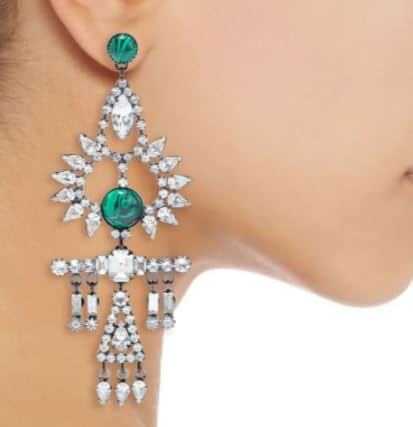 When it comes to jewellery in the 'Ton, remember, more is more, as these Swarovski crystal and stone earrings show. The emerald is on-point for recreating the look, too.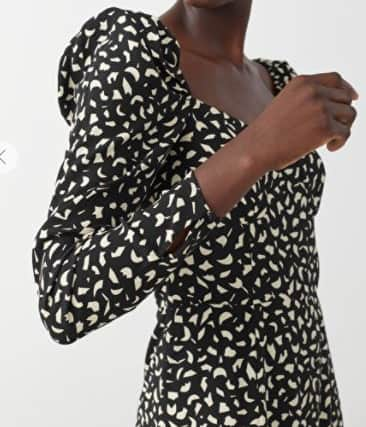 Daphne Bridgerton looks every inch the ingenue in her pastel blue gowns with puff sleeves. Take the look into the 21st century with this altogether more sophisticated midi dress from Other Stories, featuring puff sleeves and a sweetheart neckline to keep it on trend.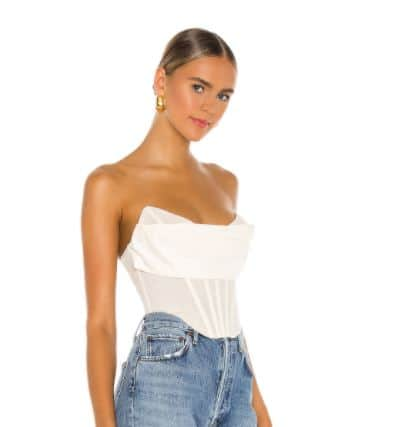 As we mentioned, searches for corsets are spiking, and it is easy to identify their appeal. By cinching the waist and pushing up the breasts, they provide a figure of accentuated femininity. Look every bit the part with this Hailee Bustier top.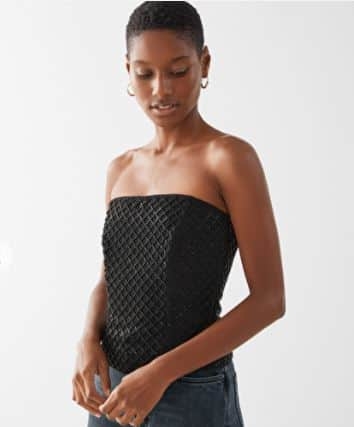 For an even sexier interpretation of the trend, opt for the Other Stories Beaded Criss Cross Corset Top.
The high waistline, dramatic print, and luxurious material of this beautiful Needle and Thread dress keep it perfectly on point for those looking to introduce a little Bridgerton into their wardrobe.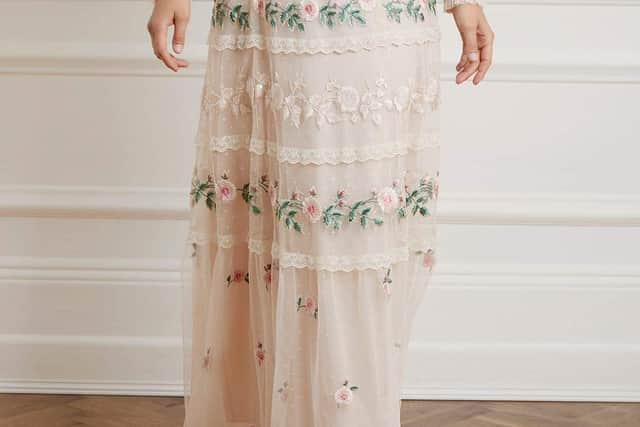 By contrast, this Precious Rose Gown from Needle and Thread brings the Regency-elements by utilising intricate embroidery, a floral motif, and acres of lace. This would make a fabulous wedding gown.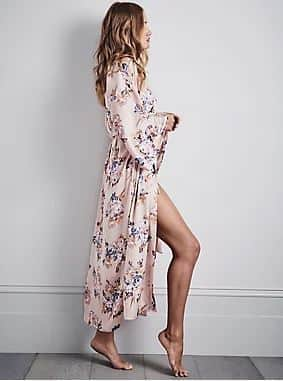 Of course, you make wish to bring a touch of the Regent-era into your lockdown lounging - and who could blame you? Do so with this Satin Floral Print Long Dressing Gown, which hits several checkpoints on the Regencycore list - all while allowing you to lie in bed.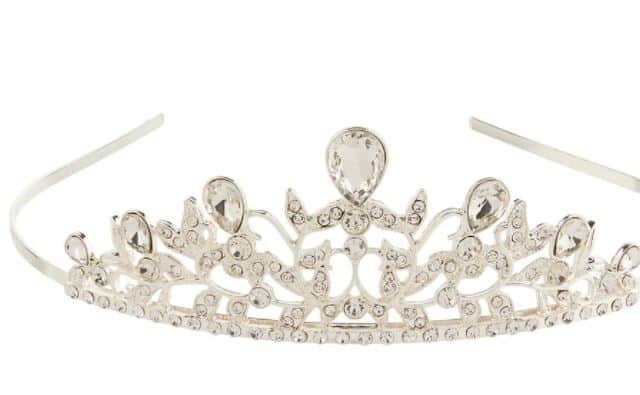 Remember we said UK shoppers were searching in tiaras online in high numbers? This cheap Monsoon number will allow you to imagine you're headed to a ball, or…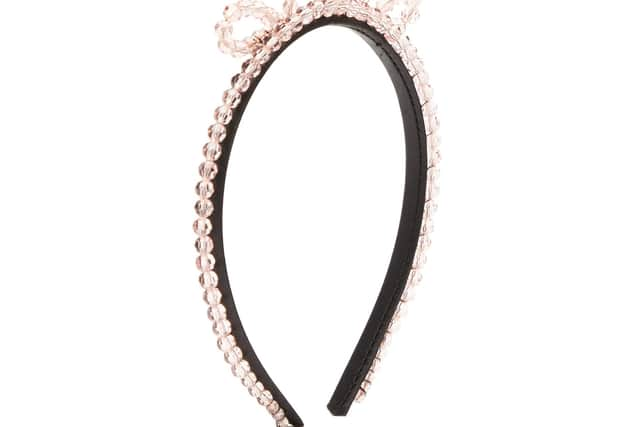 … splash out on some genuine pearl, with this Simone Rocha Single Wiggle crystal-embellished headband.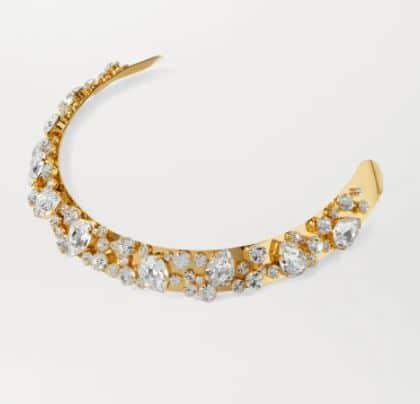 Or, if you want to go the full Queen Charlotte, this stunning crystal headband is stylishly regal - and sure to turn heads.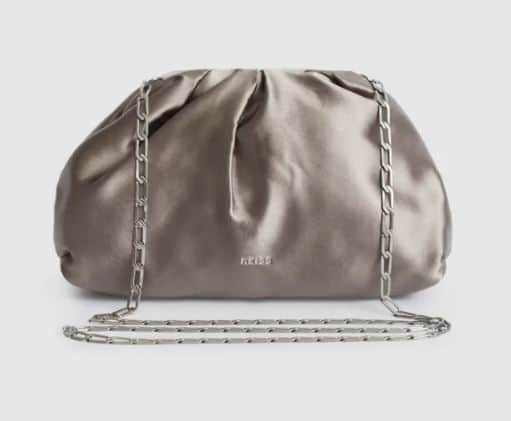 Those cute little drop purses you see the ladies clutching at society balls? This is the modern day equivalent - sleek, stylish, practical.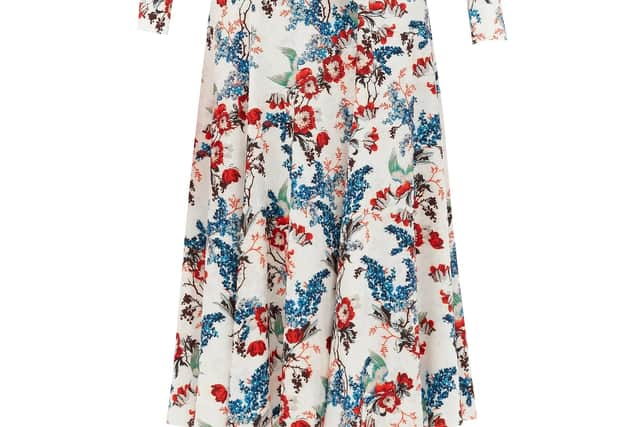 No one does soft English romanticism like Erdem. This stunning dress is what we'd wager Daphne Bridgerton would be wearing in the modern age.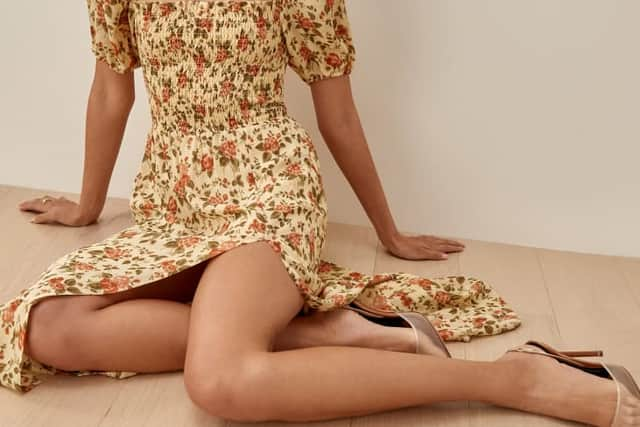 While the more fashion-forward - and interesting - Penelope Featherington would likely be garbed in this Reformation Meadow Dress. Beautiful.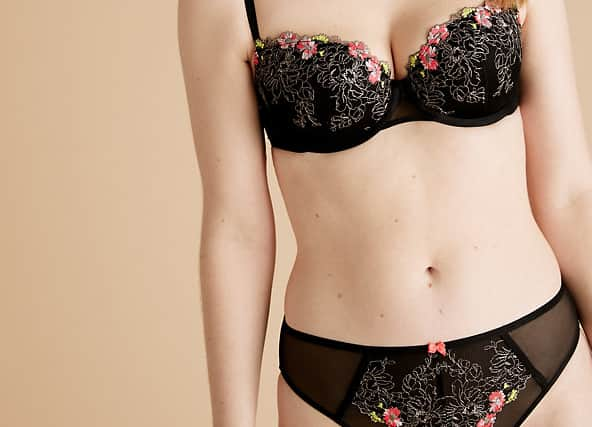 You can't have failed to notice the Featherington ladies have some seriously eye-popping cleavage. Want to get that look without relying on a corset? Go for the Floral Tattoo Embroidered Push Up Bra, from ever-so-English Marks and Spencer.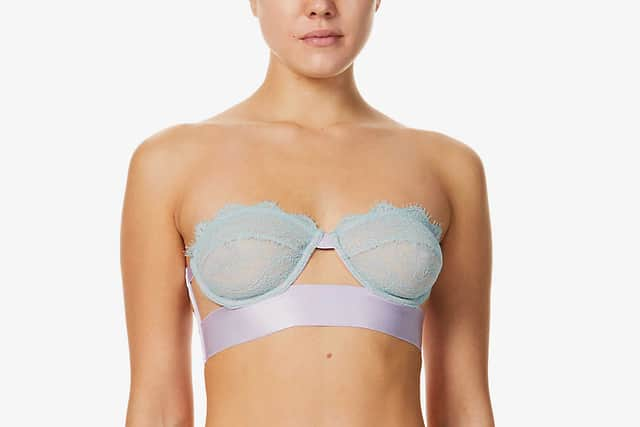 Or if you're after more ornately lacy underthings, as would befit the wealthy Bridgertons, Dora Larsen is the brand of your dreams.