South Shields burglar jailed for 'moving into' neighbour's flat after smashing hole through floor
The victim returned from a work trip to find thousands of pounds worth of damage to his flat.
Published 8th Mar 2023, 09:17 GMT

- 2 min read
A burglar who smashed a hole through the floor of his own property so he could move in to the flat below him while the occupant was away with work has been jailed.
Waseem Chaudry lived in an upstairs flat on Saint Vincent Street, South Shields, South Tyneside, but caused up to thousands of pounds worth of damage during the 'bizarre' episode.
Newcastle Crown Court heard that the victim returned on Saturday March 5 last year, to find Chaudry living in his flat and consuming his food and drink.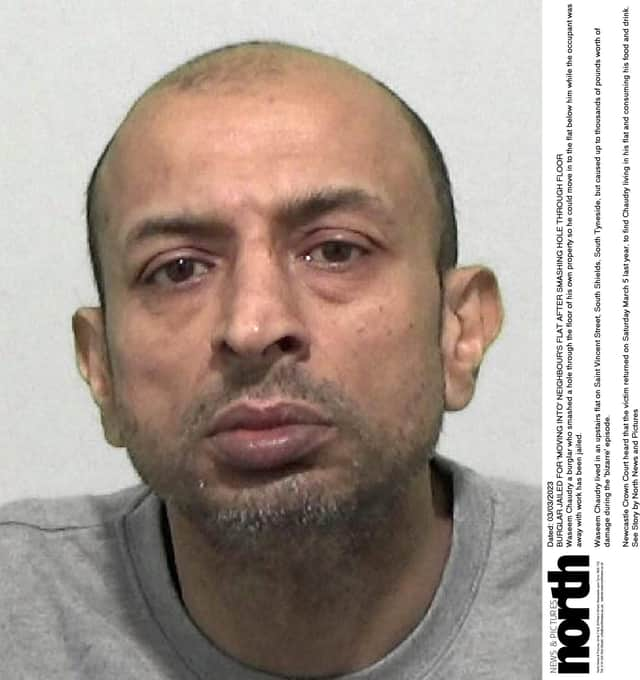 Prosecutor, Alec Burns, said the total cost to repair the damage was unknown, but that it was "extensive."
Mr Burns said the charge of burglary arose out of the food and drink that Chaudry took from his victim - the most expensive item being a bottle of Jack Daniels.
The 52-year-old, who appeared for sentencing via video link from custody, pleaded guilty to burglary, possession of cocaine, and failing to surrender to court.
Judge Edward Bindloss sentenced him to two years behind bars.
The judge said: "On the 2nd of March he (the neighbour) left to go work away.
"When he returned on the 5th of March you were in his house living there.
"You had entered as a trespasser via a hole in the ceiling causing extensive damage."
The court heard that as well as damage to the floorboards, there was also electric wires that had been pulled out and the top of a window frames had been affected.
Judge Bindloss added: "It's clear it could be thousands of pounds to repair that.
"You were living in his house for three or four days.
"You were eating his food and drinking his drink. You consumed his bottle of Jack Daniels. You were using his electrics.
"The police arrested you and they found a small amount of cocaine upon you.
"The magistrates granted you bail and you failed to attend this court when you should have done.
"This is so serious that a sentence of immediate custody can be justified."
Vic Laffey, defending Chaudry, told the court his client had suffered from a diagnosis of psychosis but is now coping well following his period on remand.
Mr Laffey added: "Speaking to him today, he is extremely remorseful.
"He understands his property is in the process of being repossessed. That is the downside for him but the upside for everyone else in the street.
"He had the good sense to plead guilty at the first possible opportunity at the magistrates court.
"Whilst he clearly does suffer from psychosis, the route of the problem is clearly the drug issue and he is now better placed than he ever could be to tackle that."