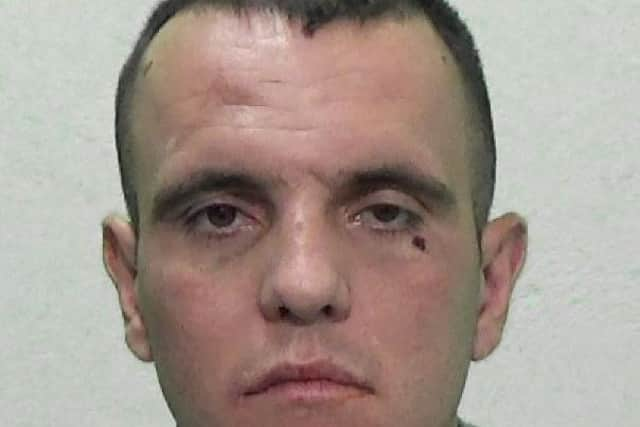 Kevin Herron.
Kevin Herron was allowed to keep his freedom last September for an attack on his mother's partner that broke his nose.
By March, the 29-year-old was captured on CCTV involved in a violent late night brawl in Fowler Street, South Shields.
At Newcastle Crown Court Herron, from Sunderland, was jailed for six months.
Judge Stephen Earl, who imposed the earlier suspended jail term, said: "You were warned you could expect to go to prison.
"This was town centre fighting, it was a continued melee with a sustained element."
Prosecutor Paul Newcombe said Herron had been with two other males in the street when another group walked towards them and there was an exchange of words and then punches.
Mr Newcombe said: "A general fracas or melee breaks out, with the defendant taking an active part before the groups separate and walk off.
"This involved him fighting with several other young men in the street.
"The defendant is currently subject to a suspended sentence order imposed on September 13 last year for assault and a conditional discharge imposed in 2019 for criminal damage."
The court heard Herron lost his dad in a fire earlier this year.
He claims one of the people he was brawling with had said "he deserved everything he got", which sparked the violence.
The court heard Herron has made "considerable efforts" in relation to his alcohol and drug use in recent months and has had no cannabis for around three months.
He has an offer of plastering work after his release.