Crufts searching UK for Hero Dog of the Year- from working & support dogs to best friends
The prestigious award spans working heroes to best friends who have seen their owners through the hardest and happiest times.
Watch more of our videos on Shots! 
and live on Freeview channel 276
Visit Shots! now
Crufts has begun its search for the UK's top dog to be crowned the 2024 winner of The Kennel Club Hero Dog Award.
Nominations are open for all of the unsung canine heroes who deserve to be recognised for the difference they make, with categories spanning from rescue and working dogs to simply 'best friends'
From the nominations, five heroic finalists, each of whom are awarded donations for their canine charity of choice, will head to Crufts next year, with a public vote deciding the winner.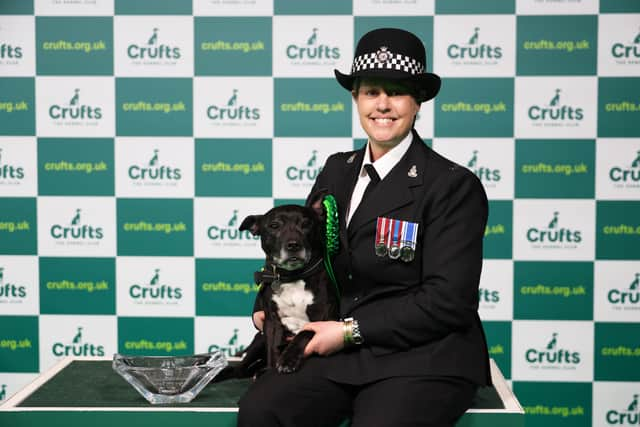 Nominations for four-legged heroes can be made within in the following categories:
Extraordinary life of a working dog – For those who have shown extraordinary qualities working in the army, police force, RAF, airport, search and rescue etc.
Hero support dog – Celebrating all support and assistance dogs, from medical detection dogs or hearing dogs, to therapy dogs or pets who provide emotional support
Best friends – Celebrating a canine companion who has seen its owner through the hardest times, as well as the happiest
Child's champion – Recognising a dog that has supported and had a positive impact on a child's life (16 years and under)
Rescue dog hero – for a rescue dog who has overcome adversity and gone on to irrevocably improve the life of their owner/s. 
In 2023, retired police dog Stella was announced as the winner of the award, after serving eight and a half years at Gloucestershire Police Force as a drugs, cash and firearms recovery dog. She was also the first Staffordshire Bull Terrier in the country to be a police dog.
The Kennel Club, organisers of Crufts, is now searching for more inspirational four-legged friends and is calling for the public to nominate those unsung canine heroes who deserve to be recognised for what they do for its Hero Dog Award 2024.
The winner of the award, which is supported by The Kennel Club Charitable Trust, will be revealed at Crufts 2024 on Sunday 10 March, and will be awarded £5,000 for a dog charity of their choice. Runners up will receive £1,000 for their chosen dog charity.
Nominations are open now until 18 October.
Cathy Guiver, Head of Events at The Kennel Club which runs Crufts, commented: "Through thick and thin, dogs provide us with unconditional love, loyalty and companionship. Some give confidence and independence to those with disabilities and others work to keep the nation safe, providing a unique contribution to society.
"The Kennel Club Hero Dog Award, with the prestigious final held at Crufts, celebrates these unsung canine heroes – those who have changed their owner's life, made a difference for a friend or family, or put their paws on the line to protect or improve our lives. We urge anyone who knows of a four-legged hero to put them forward for the title of The Kennel Club's Hero Dog 2024 and showcase the difference they have made.
"Our finalists will take centre stage at Crufts, an event which is dedicated to celebrating the diverse role that dogs play in society and all the ways that they transform our lives for the better."
Nominations can be made by visiting crufts.org.uk/herodogaward. Finalists will be announced next year, ahead of the winner being crowned at Crufts 2024, taking place at the NEC in Birmingham from 7 - 10 March 2024.