Defensive fragility so frustrating for Coleman
Chris Coleman was left frustrated with his team's defending as the fell to a 3-1 defeat against Sheffield Wednesday.
Published 3rd Apr 2018, 07:36 BST

- 2 min read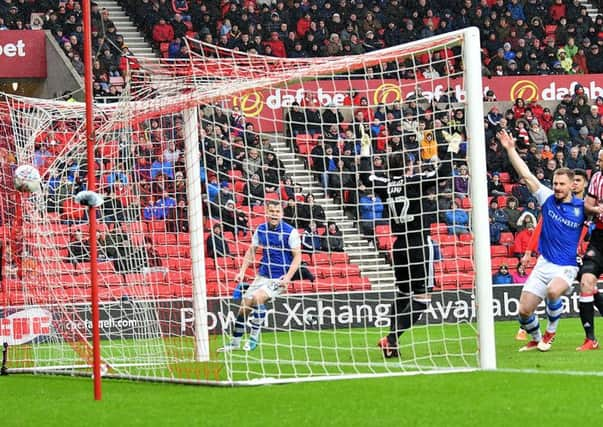 All three goals came from crosses into the box from the left-hand side, with the Black Cats reclaiming the worst defensive record in the league.
Coleman said: "It's the difference between everyone believing that whatever the opposition does they're not going to score or when you're fragile and you've been hit over the head so many times and you've been down there so long, every time the ball comes in the back there's that vulnerability. We look a bit vulnerable in those areas when the ball comes in the box.
"There were two occasions today where we should have dealt with it better. Before two of the goals we were in possession and we didn't clear our lines and deal with it properly. It was needless mistakes, really.
"We look a bit fragile when the ball's put into certain areas of the box. We haven't got that look most games that there's no way they're going to score. It's 50-50. I think it's because we've been down there for so long and in a negative situation for so long."
Coleman defended his goalkeeper Lee Camp and said the players in front must protect him better.
He said: "I think we're looking at the crosses in the box and we're not sure. One of them was a great ball. I don't think there's much he could have done about that.
"He was all right the other night. Sometimes we don't help him. In certain things we do we invite pressure. But looking at the defeat, I don't think I could say it was his fault.
"In other areas we should have done better before the ball arrived where it did. We had opportunities," he added.
"We had the ball before Sheffield Wednesday got it and didn't deal with it properly, we gave it to them. That's let us down.
"I'm disappointed about that, but everything else... I've been there when we've been really nervous, poor and lacklustre – no invention, no creation, no contact on the opposition. All that was there. I couldn't fault the players.
"They tried to win the game and it started quite openly. I can't really fault them too much, although on two of the goals we should have done better.
"It's six games left where we have to perform more like that and more like Friday night. If we do, we'll make a real fight of it. That's what we have to do."
"I'm disappointed for the players because they deserved more and for the supporters who've turned up in their numbers. They've got a performance but they didn't get a result."