Dutch Royal Navy ship to visit the Tyne
The Tyne is preparing to welcome a special visitor in the form of a a Dutch Royal Navy vessel.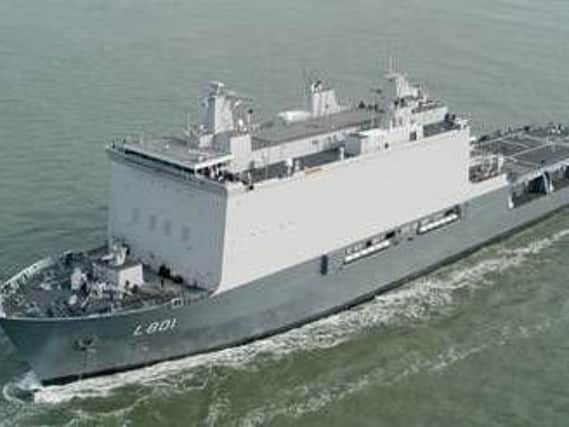 HNLMS Johan de Witt is the second Landing Platform Dock (LPD) amphibious warfare ship of the Royal Netherlands Navy.
The ship, displacing 16,800 tons, will arrive between the piers tomorrow at 8am and berth at Port of Tyne's Northumbrian Quay in North Shields.
The ship and its berth will not be open to the public, but vantage points for seeing the vessel include the Groyne at Little Haven, the Western Quay at the Fish Quay, North Shields and the Customs House, Mill Dam, South Shields.
The ship - general characteristics
Type: Landing platform dock
Displacement: 16,800 t full
Length: 176.35 m (578 ft 7 in)
Draught: 6 m (19 ft 8 in)
Propulsion: Diesel-electric system
4 × Stork Wärtsilä 14,800 kW (19,800 hp) with Podded Propulsion
Speed: 19 knots (35 km/h; 22 mph)
Range: 6,000 nautical miles (11,000 km; 6,900 mi) at 12 knots (22 km/h; 14 mph)
Landing craft: 2 × 7 m (23 ft) RHIB
Up to 4 x LCVP or 12 m (39 ft) RHIB
Provisions for Combat Boat 90's.
Can also accommodate LCACs
Capacity: 170 armoured personnel carriers or 33 main battle tanks
Sensors: Thales Netherlands Variant 2D Combined air / surface radar
Thales Netherlands Gatekeeper E/O Warning system
Electronic warfare: 4 x Sippican Hycor SRBOC MK36 launcher
Armament: 2 × Goalkeeper CIWS
4-6 x Browning .50 and FN MAG machine guns
Aircraft carried: 6 x NH-90 or 4 x Chinook helicopters
Aviation facilities: Hangar and stern helicopter flight deck with two landing spots