Dolphins pictured splashing along Whitburn coast as region is set for more sightings from April
Photos show dolphins up close as watchers say the region will be treated to more sightings in the coming months.
Wednesday, 10th March 2021, 5:35 pm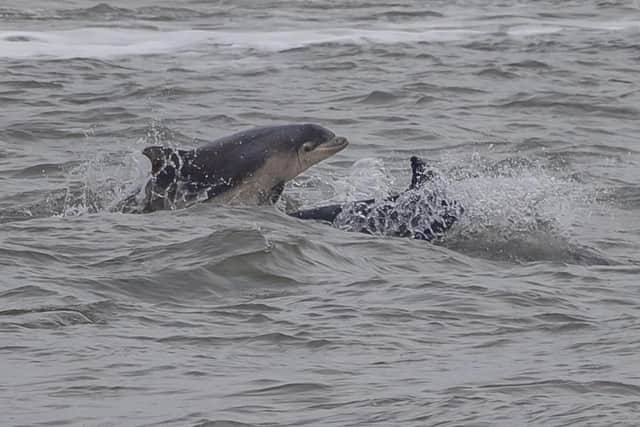 The dolphins were spotted along the Whitburn Coat/Photo: Simon Booth
New pictures show dolphins swimming along the Whitburn coast, as the region is set to experience more sightings in spring and midsummer.
The images were taken by Simon Booth while he was on a walk on Sunday (March 7).
The keen photographer said: "It's very special to be near something that's quite far out at sea and you don't get to see very often.
"It's an intimate thing and it's quite exciting when you think you've got a pod coming towards you, because sometimes they stick around and start fishing and diving out of the water. It's a great thing to watch."
Multiple sightings have been reported across the region in recent weeks, as pods were seen swimming off the North East coastline at Northumberland and Seaham last week.
Dolphin watchers have said people will be able spot the adorable creatures more often in the next few months.
Ivor Clark runs Newbiggin Dolphin Watch Association, which counts the number of sightings and dolphins made along the North East coastline.
The dolphins were photographed on Sunday (March 7)/ Photo: Simon Booth
He said: "In the last two years we've had 2,500 individual dolphins spotted along the coastline in 270 separate sightings. Over the course of a year we see them on average every other day.
"The numbers increase from April right through until mid summer. By mid summer we will be seeing dolphins three and four times per day."
Bottlenose dolphins account for the majority of sightings on the North East coast, but white-beaked dolphins can also be seen in August.
Lockdown Restrictions are still in place. Under Government guidelines people should not be travelling outside of their local area and should stay local for their daily exercise.