Lynden Gooch hoping for a brighter future for himself and Sunderland
Earlier in the season, Lynden Gooch looked to be on the brink of joining George Honeyman as a first-team regular.
By The Newsroom
Published 4th Apr 2018, 07:12 BST- 3 min read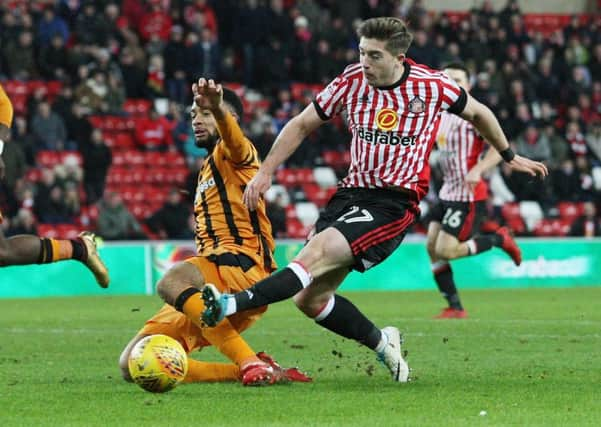 Gooch was impressing under Simon Grayson, particularly influential in a narrow 2-1 defeat to Cardiff City.
The attacking midfielder impressed everybody by confidently claiming a penalty and nervelessly despatching it into the bottom corner.
He stayed in contention after Chris Coleman's arrival, but February marked the beginning of a frustrating two-month exile from the first team.
After a pair of excellent performances on the right wing against Derby Coutny and Sheffield Wednesday, Coleman revealed that the spell out of the picture had been designed to allow Gooch time to work on his end product and ball retention.
The Black Cats boss is thrilled with the results.
He said: "Goochy's had a lot of chances if you look at the games he's played. He's been in some win and some losses.
"I had a chat with him about a month ago because I thought there were certain things he needed to work on and he's gone away and worked on them. Fair play to him.
"He's played very well in the under-23s and he's got his chance. Friday night he did well and on Monday he ran himself into the ground.
"All our players have had chances but it's consistency we've struggled with. He's not losing as much possession, he's getting us up the pitch. He did very well."
For Gooch, it is about making the most of this latest opportunity.
He said: "I hadn't played since January but all I could do was knuckle down, keep working hard and hope that the manager would give me a chance. I should have had another penalty like I did on Friday night and it was good to set up a goal, but ultimately it counts for nothing. All I can do is to try and make an impact.
"To be fair to the gaffer he set me the challenge of doing better in the final third, I was getting in to good positions but needed to get more goals and more assists, making better decisions. That's what I've been trying to do in training and when I've played for the U23's, it was good to do that in the first team and hopefully if I can keep doing that we'll get the points we need on the board.
"I knew eventually that I would get another chance, and to be fair to the manager he said I would. Hopefully I've taken it."
The 22-year-old American is very much part of the furniture on Wearside now and is well aware just how important it is that Sunderland find a way to beat the drop.
He insists, however, that the club will be attractive to players no matter what happens.
He said: "It's massively important to stay out of League One. It almost feels like I'm from here, I've been here for so long, so I'll give everything I can because it would be devastating to go down. It means so much to everyone around the club. You look at the facilities and it is a Premier League club, let alone a Championship club.
"Listen, it is a massive club, no matter what people will want to play here. If you don't, there's something wrong with you. The fans are amazing, they just want to you to give everything for the shirt. That's what I'll continue to do.
"It is disappointing, even when I'm not playing I'm desperate for the team to do well, I've been here so long I am a fan now. We're gutted not to get another three points.
"You have to keep going, it will change with one win. Keep going, keep the faith, keep training hard. When everything is against you all you can do is keep plugging away. It is bitterly disappointing not to back up the Derby result but we have to move on again."