KATE OSBORNE: The Government must recognise the value of unpaid carers during this crisis
This week is Carers Week, a week that recognises the vital contribution made by the millions of unpaid carers in the UK.
Thursday, 11th June 2020, 12:00 am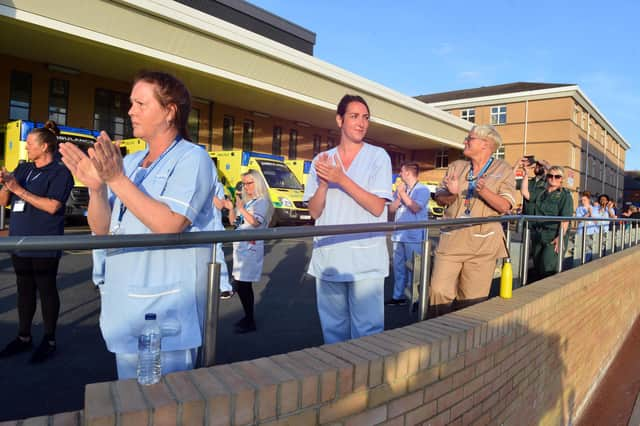 Hospital staff clapping for all carers.
I'm extremely proud to pledge my support to carers, who are the absolute backbone of our society. Carers work tirelessly, and often without recognition, to support a loved one. But all too often their commitment and sacrifices go unnoticed.
These can be children and adults caring for a loved one or a relative who is suffering from an illness, a disability, or a mental health condition. Before the coronavirus pandemic, there were 6.5 million unpaid carers – one in eight adults. This Carers Week, we say a huge thank you to each and every carer for all the work they are doing to support family and friends.
New figures released show that millions of people across the country have become unpaid carers for loved ones during the coronavirus outbreak.
Around 4.5 million additional people are now caring for older, disabled or seriously ill relatives or friends as a result of the pandemic.
Most of these unpaid carers, 9.1 million, were already caring for loved ones before the covid-19 outbreak.
The six national charities supporting Carers Week - Carers UK, Age UK, Carers Trust, Motor Neurone Disease Association, Oxfam GB and Rethink Mental Illness - are now calling on the Government to deliver a plan for social care reform and set out long-term investment in care and support services. This would give unpaid carers the opportunity to take breaks from their caring role, and stay in paid work if they want to.
The charities also want an increase in Carer's Allowance - currently £67.25 a week - and a "one-off coronavirus supplement" in recognition of the role unpaid carers have played in the coronavirus pandemic and the significant costs associated with caring.
Carers Allowance is £7 per week less than Job Seekers Allowance which understandably leaves many carers struggling to make ends meet.
Now is the time to take action and the Government must recognise the value and support unpaid carers are providing through this crisis without whom the health and social care systems would have collapsed.
Carers need support, they need services and they need financial support worth more than £67.25 a week.
The Government must urgently address the issue of Carers Allowance and they must bring forward plans to rebuild our social care and support services, coupled with long-term investment.
When we get through this crisis – and we will - it will be because of the hard work and sacrifice of so many, people who have put the needs of others before their own.
So, finally, thank you to our carers for everything they do. It is only right that this hard work is recognised this week. Thank you.