Kate Osborne MP: 'Freedom Day delay was entirely ​​​​​​​avoidable but for incompetence'
Monday was the day that we expected an announcement that finally, all remaining restrictions would be lifted on the 21st June, 'freedom day'.
Thursday, 24th June 2021, 5:00 pm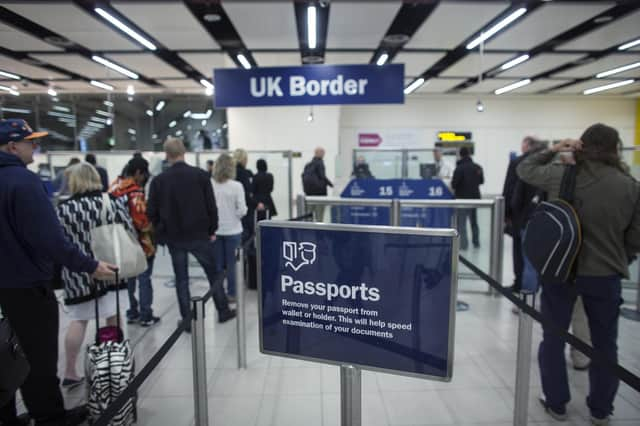 Kate Osborne, MP, has criticised the Prime Minister and his health, home, and foreign secretaries for inexplicably keeping borders open, despite rising cases across the globe, leaving the UK vulnerable to new coronavirus variants such as the highly transmissible Delta variant. Photo by Oli Scarff/Getty Images
It's been a long, difficult, 15 months for so many people, and the hope of reopening on the 21st June was the light at the end of the tunnel.
Now those hopes have been dashed with "Freedom Day" put back to July 19th.
Lifting restrictions on 21st June was a promise made by this Government – and the responsibility for breaking that promise lies firmly at the door of hapless Boris Johnson and his incompetent Ministers on the Cabinet.
The Prime Minister, ably assisted by his woeful Health, Home, and Foreign Secretaries, inexplicably kept our borders open, despite worrying rising cases across the globe, leaving the UK vulnerable to new coronavirus variants such as the highly transmissible Delta variant.
And what makes this all the more frustrating is that all this was entirely avoidable.
Inexplicable Government negligence has allowed the Delta variant, first identified in India, to take hold here.
But does this really come as a surprise when this is the same Government, plagued by appalling levels of rampant cronyism and huge wasting of taxpayers' money throughout the pandemic, who have shown a consistent track record of handing out contracts to their mates and even breaking the law along the way?
Their decisions over the past 15 months have led to the UK having the worst death toll in Europe.
Ignoring scientific advice by delaying the second and third national lockdowns was sheer incompetence.
Now yet again the Government have failed to learn from their mistakes by failing to close our borders sooner.
The economic cost of this failure, particularly for many businesses across the country, is devastating. The hospitality industry has already warned that this month-long delay would cost struggling businesses £3bn, and put 200,000 jobs at risk.
The delay has caused further frustration for those couples who planned to marry after the lockdown, who have already had to rearrange their special day once, twice, or maybe even more times, despite an increased capacity, dancing inside is forbidden by the new rules.
For those on furlough, serious worries remain over how long they will still have a job. From 1st July, all businesses including in sectors hardest hit by restrictions will have to contribute 10% towards the cost of furloughing employees.
That includes businesses still unable to open like nightclubs, as well as those facing huge financial difficulties in light of ongoing restrictions including travel agents and airlines, pubs and bars, and businesses in the wedding industry.
The £20 uplift in Universal Credit is to come to an end at the end of September. Whilst it was wrong to not extend this to legacy benefits, it was a lifeline to so many and to stop it now, when we are not through the pandemic, would be a failure of Government duty.
The Government must provide proper financial support to those people who need to self-isolate and to businesses in these more challenging weeks and months ahead.
These businesses must not be made to suffer because of more Government dithering and indecision in its failure to contain the new variant.
We all want this nightmare to end as quickly as possible and the brilliance of our NHS and our scientists have put the finish line in sight.
I know that more uncertainty and disruption has been caused to you all, but you can be rest assured that I will always do whatever I can to support you as your MP.