KATE OSBORNE: Tories 'on a mission' to take power away from the people
Yesterday 500,000 workers took strike action to protect their pay, standard of living and the services they provide in what was the biggest day of industrial action in over a decade.
Published 2nd Feb 2023, 00:00 BST

- 2 min read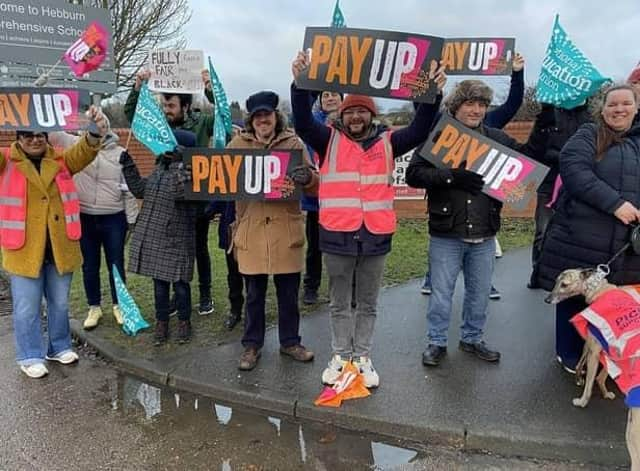 Civil servants, teachers, university lecturers, train drivers, bus drivers, security guards and more took part across South Tyneside.
Among them were members of the National Education Union (NEU) who headed to the picket lines at St Joseph's Catholic Academy in Hebburn, Hebburn Comprehensive, Jarrow School, Hebburn Lakes Comprehensive and many more.
These strikers are my constituents, they are the public and they are desperate for a pay rise to feed their children.
It's shameful that so many working people are reliant on foodbanks, and it's shameful that 39% of kids in my constituency of Jarrow are living in poverty.
With food prices rising by 16% this week the amount of people struggling will rise - the country needs investing in and that starts with investing in people and our public services.
I joined striking civil servants on several picket lines outside government departments in Westminster and will always stand up for workers.
Unlike this government who rather than helping workers live decent lives and improving the services that millions of people rely on every day, are deluded enough to deny there's a problem. Instead, they attempt to blame nurses for poor budgeting skills as they continue to wage war on working people.
The Tories are on a mission to take power away from the people. They're not just turning the clock back on workers and trade union rights, but on the rights of the vast majority in this country.
Instead of negotiating they have legislated, this week forcing through a Minimal Service Level (MSL) Bill that is both unnecessary and unworkable.
Minimum service levels would exist if this government hadn't asset stripped, underfunded and privatised our core services over decades.
Minimum service levels on strike days do already exist, of course. Our NHS teams ensure priority calls are dealt with, teachers ensure pupils with Special Educational Needs are catered for. Firefighters will always attend emergencies.
Yet the Minister persists in lying and claiming otherwise. It's a pity that MSLs don't apply to his Government, every day.