KATE OSBORNE: We must bring about change to tackle the crisis of violence
Last weekend, people around the country justifiably reacted with anger to footage of police manhandling women who turned up to an emotional vigil for Sarah Everard.
Thursday, 18th March 2021, 9:38 am - 3 min read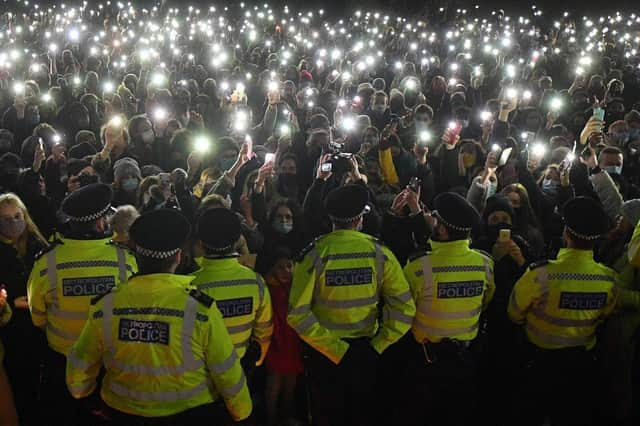 Sarah Everard protest
It was harrowing to see chants of "let her speak" quickly turn to "shame on you" as police officers proceeded to forcibly attempt to break up the peaceful gathering at Clapham Common, south London.
Under current social-distancing laws, gatherings of more than two people are forbidden in most circumstances.
However, the police were still obliged to follow the Human Rights Act, which clearly stipulates that power should be exercised proportionately and only when necessary.
The purpose of policing isn't primarily enforcement, let alone brutality: it is to keep the peace.
The police had every opportunity to strike the right balance at the vigil for Sarah in Clapham and failed to do so.
What happened on Saturday was wholly unacceptable, documented in widely shared images and videos across the world of uniformed police officers manhandling peaceful female protesters.
During the Coronavirus pandemic, this Government have handed vast powers to the police to enforce lockdown restrictions, leading to a situation where the police are now policing the coronavirus regulations as a public order problem, rather than a public health matter.
We must not forget that while this type of state violence was made visible at the weekend, it is the case that these tactics have been used to protect powerful interests throughout our history.
It was seen during the 1984-85 miners' strike, and it was seen last year as a response to the Black Lives Matter protests.
In a democratic society, policing requires understanding of the public mood. What we are seeing is a huge overreaction and a situation where women have been criminalised while attending a peaceful vigil.
Recent events such as the vigil for Sarah Everard have left women feeling even less empowered in our society. For the police to say to women, "The way you can protect yourself is to stay at home", is unacceptable and quite frankly, is just not good enough.
What is extremely concerning is that within the government's Police, Crime, Sentencing and Courts Bill there is no mention of women, whereas the word "memorial" appears eight times.
It is equally concerning that the Bill seeks to ensure that attacking a statue carries a longer sentence than attacking a woman.
What kind of message does that send about this Government's attitude to tackling the vitally important issue of violence against Women and Girls?
I believe the right to protest is a must in any democracy, so I voted against this Bill. I voted against this Bill because it is an assault on our civil liberties, threatens what remains of our rights to protest, expands stop and search powers and further criminalises Gypsy, Traveller, and Roma communities.
The dreadful events of last weekend have made it clearer than ever that what is needed isn't further police powers. There have been many dark days in our history of policing and protest.
We owe it to Sarah Everard's memory and every woman who is a victim of sexual harassment and assault to bring about change to tackle the crisis of violence against women and girls.
We all need to think about the way in which women are spoken to, treated, and often held in disregard in our unequal society. Ultimately, men must look at their own behaviours, take responsibility, and commit to change.