KATE OSBORNE: We must repay the debt to our health and care heroes with a new settlement
This evening our country will join together once more to show its appreciation and gratitude to each and every one of our wonderful health and social care workers.
Thursday, 16th April 2020, 9:06 am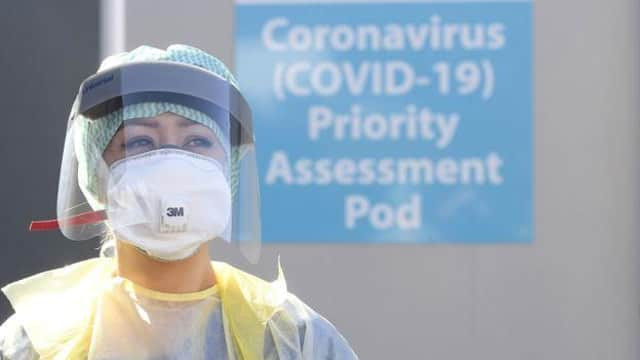 Call for a new deal for health and care workers.
Clapping, cheers, and chants have filled our streets over the past three weeks as people have applauded in support of the huge effort and sacrifices our NHS staff, carers, and frontline workers are making every single day.
Millions of people will take to their doorsteps, windows, gardens, and balconies to pay tribute to those on the frontline who are keeping the country running, from NHS and social care staff to the emergency services, shop and postal workers, teachers, waste collectors, and many more.
Nobody could fail to be moved at the wave of camaraderie and emotion that has swept through our streets and communities, showing the huge support and solidarity for those fighting on the coronavirus frontline.
In recent weeks we have seen staff at our hospitals being given a wonderful reception by our local police and fire services outside of their buildings with flashing lights and sirens as they join together to celebrate those working on the frontline in the most unimaginable pressure.
When we get through this – and we will – it will be because of those dedicated men and women in our health service, our care workers, our emergency services and ambulance drivers, our cleaners and our porters.
Each and every one of those workers deserve so much more than our thanks.
And we must never forget their willingness to walk towards this great danger to save the lives of others.
Despite walking towards this great danger with a shortage of personal protective equipment and essential machines such as ventilators, staff have simply knuckled down and continued with their vital work in the most difficult of circumstances.
Many have paid the ultimate sacrifice with their lives. The virus has claimed the lives of nurses as young as 23 years old, as well as doctors in their late 70s, and they all must never be forgotten.
From the chronic lack of testing to failure to provide enough protective equipment for all staff, more and more questions are being asked of this government's handling of this national crisis.
I'm sure those questions will be asked well after the coronavirus outbreak is over, but once this pandemic nightmare is over, there is no doubt that our society and our economy will be, and must be, very different.
Our NHS has been underfunded for far too long and we must say to this government – 'no more!'
The work our health service is doing is beyond words and needs to be properly funded.
We have seen who the key workers really are.
For too long, our health and care workers have been taken for granted and poorly paid.
Now these workers are being sent to the frontline without the right protective equipment to do their jobs.
Yet they continue to give everything to keep our loved ones safe.
The praise they're getting, however enormous it is, will never be enough.
We must repay that debt, with a new settlement for our health and care heroes, because it is the very least they deserve.
The job that our doctors and nurses do is something you only fully appreciate at difficult times like this, or when you are in need of help and assistance.
Me and my whole family will be clapping for all frontline workers and all frontline heroes this evening (Thursday, April 16) at 8pm. I hope you can too.
To each and every one of you all, thank you.