KIM MCGUINNESS: How ball games can help fight crime in our community
Recently I've been out in Sunderland seeing a new weapon in the battle to prevent crime - step forward the not-so-humble football.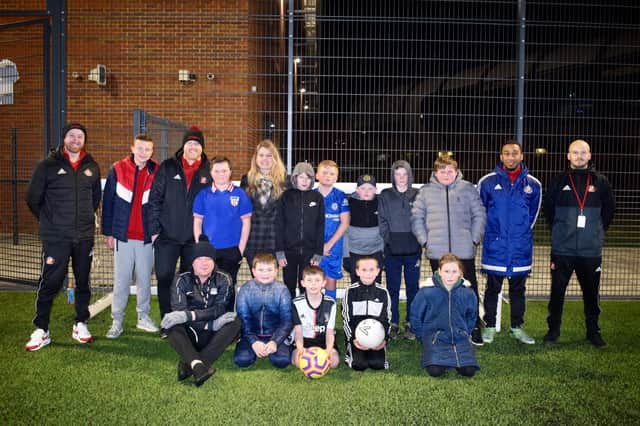 If you went back a few decades there would be a familiar sight on many an estate in the form of a stern 'No ball games' sign, normally displayed on a wall next to the only bit of green space on the estate, often above a few kids kicking a ball around.
No one wants a football banging against their house, but for some kids there was often nowhere to go. That trend increased massively as austerity hit young people more than anyone else - the parts of the state reserved for them simply disappeared.
Many swimming pools have been left to dry up, free music lessons have gone quiet and youth clubs, well, too many of today's young people ask - 'what's a youth club?'
It was reported last week that youth services, the vital tool in the fight against knife crime, have suffered on average a 70% funding cuts in less than a decade, in some parts of our region this is closer to 90%.
It is no wonder violent crime is on the rise. There's a lost generation that has had nowhere to go and nothing to do.
But lately things have started to change. I've set up a Violence Reduction Unit that is proudly funding organisations that offer young people an alternative, that aims to restore some of those missing youth services and opportunities. And it's organisations like the Foundation of Light who give us just that.
The charitable arm of Sunderland AFC runs 'Kicks' - a football based session on Monday and Friday nights at the Beacon of Light, which I'm supporting through Violence Reduction Unit funding. Young people are encouraged to come along, free of charge, and have a kick about on some of the best pitches in Sunderland. As well as football, young people are given other experiences such trips and visits in school holidays and educational sessions on the danger of knife crime and violent crime.
Through positive interventions like this we can help the young people of Sunderland, some of who might be on the edge of involvement with the police. With the right support, we can stop them falling into crime.
The fantastic thing about 'Kicks' is that it harnesses the power of football and the power of sport. It uses the Sunderland brand to bring young people in and give them something to do.
This is exactly the sort of thing that gives young people positive mentors and keeps them away from crime, anti-social behaviour, and difficult behaviour.
Young people's needs cannot and must not be brushed to one side anymore – they need to be right there at the forefront.
It's a 'yes ball games' from me.