RICHARD ORD: Icy swims for health produce a brrr-ain freeze
If you notice a little spring in my step as I write these words, be rest assured it's nothing to do with being happy.
Published 2nd Dec 2020, 00:00 BST

- 2 min read
Updated 2nd Dec 2020, 09:11 BST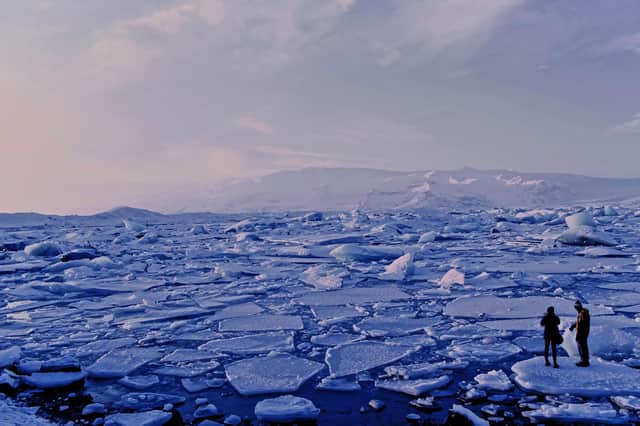 The bounce you may be able to detect (though god knows how) is due to the fact that I have discarded the office chair and replaced it with an inflatable exercise ball.
It adds nothing to the creative process, but at least gives you a mental image you probably won't thank me for.
There was a time when newspaper offices looked outside the box for inspiration. During my early days in newspapers, one company big wig introduced an 'ideas' room for the advertising team complete with comfy chairs, a punch bag and board games. There was even a mini fridge with beers.
Anyone feeling a little jaded and devoid of ideas could take a break in the room to re-energise themselves.
I never saw anyone in there.
Given it was in the centre of the open plan office, it wasn't so much an 'ideas' room as a jaded employee trap. Wander in and you immediately reveal yourself as a man lacking in ideas and inspiration. And if you touch the mini bar … a jaded employee with a drink problem.
Needless to say it didn't last.
Management pretty soon reverted back to public humiliation and punishment beatings to raise productivity.
In these days of pandemia (is that a word?) we find ourselves exposed to new and very different influences in the workplace.
In my case, that's the radio and my bedroom walls. BBC Radio Four is seeping into my unconscious. The Archers, Women's Hour and a lot of talk of cold water immersion. The latter I took as a relatively cheap punishment for those who fail to social distance in supermarkets. It seems like a good idea. Get the police to chuck offenders into the nearest sub-zero body of water. If you charge people to watch, it could be a nice little earner for the hard-pressed constabulary.
Turns out that this cold water therapy they're talking about is not a punishment, but a pastime!
During lockdown, more and more people have, despite the drop in temperatures, been swimming in rivers and the sea. By all accounts it's good for your mental health. Which is odd, since I would question the mental health of anyone suggesting I slip into a pair of Speedos to join them in a wee dip into the North Sea in winter.
That said. I'm the one in my bedroom spouting nonsense about jaded employee traps from atop an inflatable gym ball.
Where have I put those canary yellow budgie smugglers? North Sea here I come…