RICHARD ORD: Return the loo roll to aisle seven - they've found a vaccine
Drop that bumper pack of loo roll! They've only gone and found a vaccine!
Wednesday, 11th November 2020, 12:00 am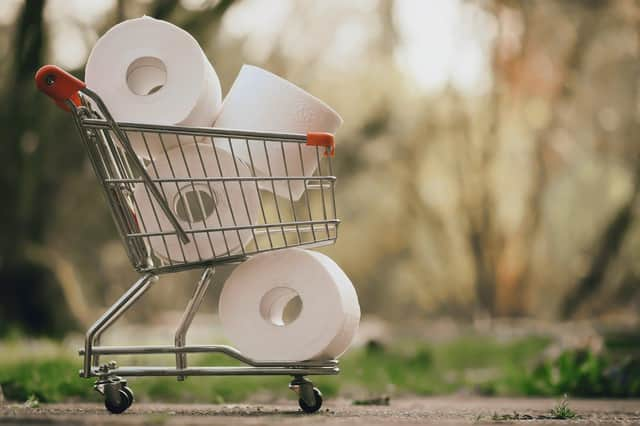 Vaccine find wipes (among other things) the slate clean.
Almost missed the bulletin myself because I can barely see the TV screen over my mammoth stockpile of toilet rolls and bags of dried tagliatelle.
Fortunately, the 1,000 boxes of Andrex Supreme Quilts luxury 4-ply toilet paper (because my backside's worth it) provide the perfect acoustics to hear the news even if I can't quite see the news reader.
So with coronavirus kinda sorted, the government now needs to tackle the other raging pandemic … conspiracy theories. No sooner had a bit of good news burst through the cloud of Covid misery, than the Facepuke naysayers were spouting their usual nonsense.
Chief among them on social media was the claim that 'no way can a vaccine like this have been found so quickly' and therefore is sure to have unsavoury side-effects.
Hmm, I dunno. When the world's finest minds throw their every waking hour into finding the cure to a deadly global plague, I reckon them succeeding quite quickly isn't that unbelievable. Equally, I find it hard to accept that the government would roll-out a national immunisation programme if there were any hints of unpleasant consequences. But then again, I am quite gullible. I once expressed doubts over Boris Johnson's 'oven-ready' Brexit deal with the EU, so what do I know?
We asked the question on Facebook, who do you think should get the vaccine first? The sane majority suggested NHS, care workers and the most-at-risk. The conspiracy goons put forward MPs and prisoners! 'Let them be the guinea pigs…" was the reasoning. In capital letters, naturally.
Really? What's the bet these loons would have been the first to protest had Matt Hancock revealed that health and care workers would have to wait until after he, Mrs H and the Hancock kids were jabbed?
Hopefully this good news revives the fortunes of my favourite experts, the Chief Medical Officer for England Chris Whitty and the Government Chief Scientific Adviser Sir Patrick Vallance. They were branded Professor Gloom and Doctor Doom for revealing their worst case scenarios for Covid.
Perhaps they can now rebrand themselves as the Sunshine Scientists and predict positive best-case scenarios. How about a side effect of vaccination being the chance humans could develop night vision and self-wiping backsides?
Though, given the number of toilet rolls I've got to sell off, hopefully not ...