Join in the BIG Conversation
Life has changed beyond recognition since the end of March.
Published 14th Sep 2020, 11:19 BST

- 2 min read
Updated 14th Sep 2020, 11:24 BST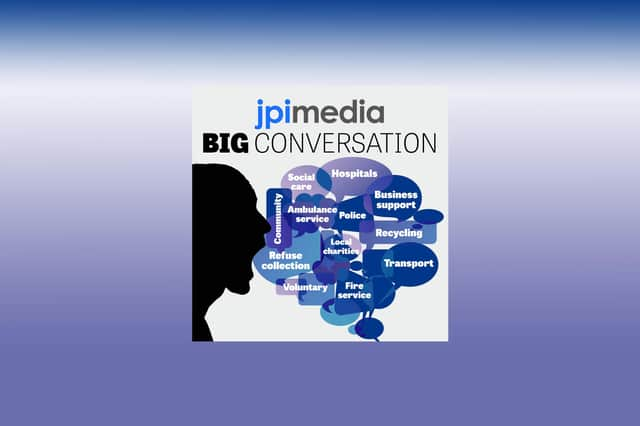 Many of us are still working from home and we are all wearing face masks to do our shopping and travel on public transport.
We've also learned a whole new vocabulary of words, from the R number to furlough.
Those months when we could only leave the home for essential tasks were tough - but they also meant that we got to know our neighbours and began to appreciate the freedoms we had lost.
And who would have thought that millions of us would leave our homes on Thursday evenings to applaud the key workers who were keeping us going?
Now we are asking you to help us take the temperature of both our local community and the nation following lockdown through a snapshot survey called the Big Conversation.
JPI Media titles throughout the country are asking questions of readers to find out what has changed since lockdown - and what the new society which emerges from the Covid-19 pandemic should look like to benefit us all.
Questions range from what is important to you in the light of lockdown to gauging public confidence as we emerge.
The survey will look at the impact of the pandemic on the economy and your spending habits as well as shining a light on healthcare provision in our communities. It will also ask what we have learned from the past six months and if you have maintained that community spirit since. We hope it will lead to changes in the way we live and work.
We would ask you to join in the Big Conversation with us online by clicking here today and taking part in the survey. We are really keen to hear your opinions on a range of subjects.
And if you would like to send us your thoughts on lockdown life and beyond, send an email, marked The Big Conversation to [email protected]
Let's work together to try to ensure that the lessons we learned and the community spirit we enjoyed earlier this year can become a part of all our lives in the future.