Accessible play equipment being installed across South Tyneside parks
The work which will be provided and installed by Play Fitness, is set to be fully completed by the summer.
Published 23rd Mar 2023, 16:03 BST

- 2 min read
Updated 23rd Mar 2023, 16:03 BST
Parks across South Tyneside will have brand-new accessible equipment installed, in order to support children with disabilities and sensory impairments.
Work has already begun, with the first piece of fully inclusive play equipment, a level roundabout being fitted in the children's play area at Cleadon Recreation Ground this week.
The programme will see accessible play pieces installed in 11 parks and playgrounds across South Tyneside to accommodate wheelchair users and other children who have difficulty using the existing play equipment. In order to make parks and playgrounds as accessible as possible, the council are also planning to adapt the existing play equipment.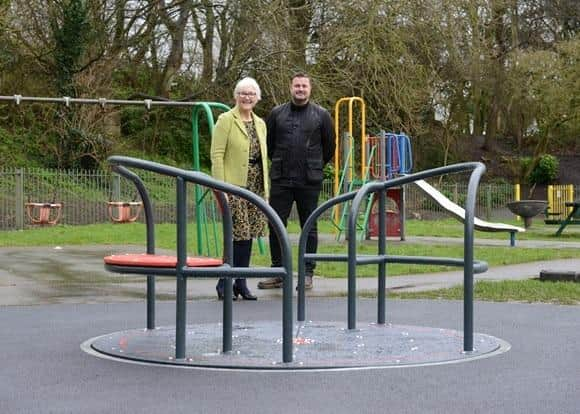 Councillor Joan Atkinson, Deputy Leader of South Tyneside Council with responsibility for Culture, Leisure and the Visitor Economy, said: "We know how important play is to the health and wellbeing of our children. We want to encourage children of all abilities to be able to have fun and play together.
"Introducing inclusive play equipment and making our play spaces accessible to all is a key priority for us. I'm delighted to see the start of the programme with the first new piece of inclusive play equipment being installed, with more to follow over the coming months."
The accessible play equipment is being provided and installed by South Shields company Play Fitness and the work is expected to be complete by summer.
Play Fitness Managing Director, Paul Fairley said: "It's fantastic to be working with South Tyneside Council on this project. It's great to see investment in fully inclusive play across the parks. As a local firm, we are particularly excited and proud to be providing fun and accessible play pieces for local families to enjoy. We can't wait to see our equipment being used."
South Tyneside parks which will benefit from the accessible play equipment includes; Car Ellison Park, Jarrow, Lukes Lane Park, Hebburn, West Park, Jarrow, Disco Fields, Boldon, Redhead Park, South Shields, West Park, South Shields, Cornthwaite Park, Whitburn, Cleadon Park South Shields, Galsworthy Road, South Shields, Coulthard Park, Cleadon and Heathway, Jarrow.