'Amazing day' in South Shields town centre as stores delight in welcoming back shoppers after 'hardest lockdown yet'
Shop owners and managers were delighted to welcome back customers after months of closure - and shoppers were equally as excited to as some normality returned to the town centre on April 12.
Monday, 12th April 2021, 4:45 pm
More than 200 people flocked to New Look in King Street in just the first two hours of the shop opening, with manager Serena Martinez saying it was 'excellent' to see people returning to the town centre once again.
The 39-year-old from South Shields said: "It's been amazing today. We opened at 9am and it's just been non-stop.
"It's excellent for the town. The sunshine helps but I think people would have come out regardless.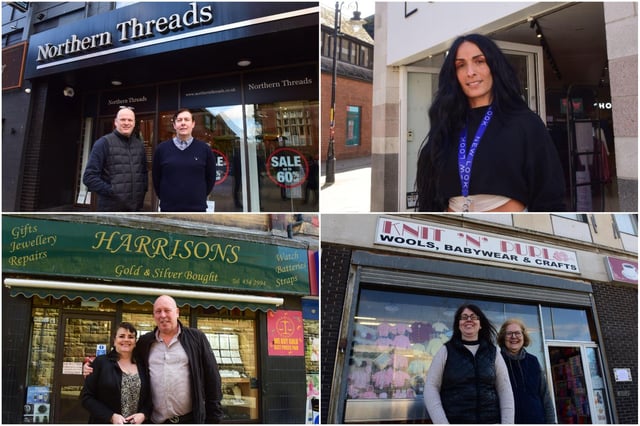 South Shields shops were delighted to reopen on April 12.
"I think [after lockdown] people just want to see people again."
It had also been a busy morning for Allan and Lorraine Harrison from Harrison's Jewellers on Station Approach, with customers keen to replace watch batteries.
Allan said: "It has been busy. Many people have been coming in for batteries because their watches have stopped.
Colin Peat and Phil Goodfellow of Northern Threads, South Shields.
"It is nice to be back open as lockdown has been a nightmare.
"Our first customer has been ringing us all week and came in and bought a load of silver dollar coins for £500. It is good to be back."
Knit 'N' Purl in the Market Place was among independent shops in South Shields town centre that have reopened, with owners Jacqueline Brown and Susan Harris thrilled to be back.
Jacqueline said: "I'm really pleased to be back open again. Lockdown has been really tough this time around, everybody has really struggled.
Serena Martinez, manager of New Look in South Shields.
"We have run click-and-collect throughout being closed, but it definitely has been a tough time. I'm hoping this (lockdown) will be the last.
"We have been busy since we opened this morning which is great.
"The same restrictions are in place as before. We want people to feel comfortable in the shop. It's great to be open."
Northern Threads on Ocean Road was also pleased to welcome back its regular customers.
Gemma Parker and daughters Amber (10) and Holly (7) out shopping in South Shields on Monday.
Owner Phil Goodfellow, 45, said: "This morning business has been brisk.
"We have had our regulars in and there has been a nice atmosphere.
"We have had 30 customers already and there have been some big sales."
He said it was welcome news after a tough few months. "This lockdown has been the hardest one yet," he said.
"The first time suppliers were more accommodating but this has been survival of the fittest."
And shoppers appeared to be making the most of the relaxed restrictions by heading to the town centre early.
Susan Harris and Jacqueline Brown of Knit 'N' Purl.
New Look customer Kirsty Martin said: "It's just exciting to go round the shops again and to do something normal.
"I'm gong to the hairdressers after this and then to Newcastle. I'm making the most."
Dael Ibrahim, 21, was waiting to go into River Island. He said: "I've been out since 10.30am to buy clothes for work.
"It's good to see the shops back open."
Mum Gemma Parker, 33, was also shopping in the town centre with children, Holly, seven, and Amber, 10.
She said: "We've just come for a quick look – the girls are excited River Island is open again.
"It is busy but everyone seems to be keeping safe. It's just nice to get back out again."
You can subscribe to this website and enjoy unlimited access to local news, information and puzzles online.
With a digital subscription, you can read more than 5 articles, see fewer ads, enjoy faster load times, and get access to exclusive newsletters and content.
Simply click 'Subscribe' in the menu.
Kirsty Martin out shopping at New Look in South Shields on April 12.
Allan and Lorraine Harrison of Harrison's Jewellers, South Shieds.
Dael Ibrahim out shopping in South Shields on April 12.