Amazing pictures show Northern Lights dancing off South Shields coast at Marsden
These amazing pictures of the Northern Lights dancing above our gorgeous coastline were caught on camera by photographer Steven Lomas.
15th Mar 2021, 2:33pm
- 2 min read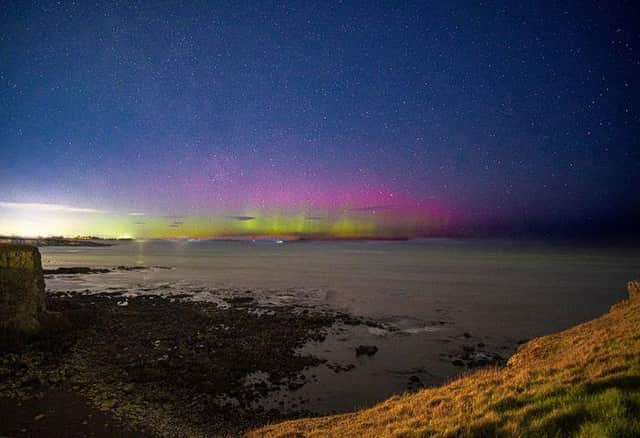 The Northern Lights, photographed by Steven Lomas at Marsden on March 14
Steven captured the magical colours of the aurora borealis from the coast at Marsden around 8.40pm on Sunday, March 14.
The Northern Lights are caused by 'solar wind' which cause electrically charged particles to collide with the Earth's magnetic field and atmosphere.
The Northern Lights, photographed by Steven Lomas at Marsden on March 14
The solar wind distorts the Earth's magnetic field as it approached, allowing some charged particles from the Sun to enter the Earth's atmosphere at the magnetic north pole and the magnetic south pole.
As these charged particles "excite" gases in our atmosphere, they make make them glow.
The solar wind can cause the Earth's magnetic field lines to disconnect from the planet, and when they "snap back" into position, charged particles from the solar wind are again pushed into the Earth's atmosphere, causing aurora.
The more magnetic field lines disconnect and snap back, the further south the Northern Lights can be seen.
AuroraWatch UK, a service provided by Space Physicists at Lancaster University, gives updates on when conditions are right to see the Northern Lights in which parts of the country.
The service reported on March 14 that "aurora may be visible by eye from Scotland and may be visible by camera from Scotland, northern England and Northern Ireland".
Support your Gazette and become a subscriber today. Enjoy unlimited access to local news, the latest football stories and new puzzles every day. With a digital subscription, you can see fewer ads, enjoy faster load times, and get access to exclusive newsletters and content. Click here to subscribe.