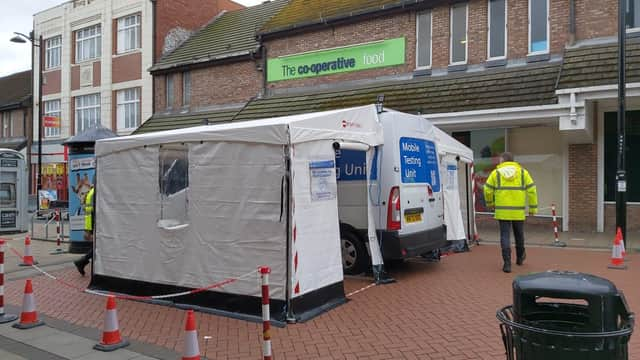 Surge testing is currently underway in North Tyneside.
The government is advising people to avoid all non-essential travel in and out of the borough due to the spread of the variant – making the decision without any discussions with North Tyneside Council.
The borough is one of eight council areas in England that should be avoided "unless it is essential", according to guidance on the government's website.
The stricter advice was published late last week without an official announcement being made.
The advice on gov.uk states that people should try to "avoid travelling in and out of affected areas unless it is essential, for example for work (if you cannot work from home) or education".
The guidance applies to North Tyneside, Bedford, Blackburn and Darwen, Bolton, Burnley, Kirklees, Leicester, and Hounslow – all areas that have seen outbreaks of the fast-spreading strain.
It states: "The new Covid-19 variant spreads more easily from person to person. To help stop the spread, you should take particular caution when meeting anyone outside your household or support bubble.
"In the areas listed, wherever possible, you should try to meet outside rather than inside where possible, keep two metres apart from people that you don't live with (unless you have formed a support bubble with them), this includes friends and family you don't live with, [and] avoid travelling in and out of affected areas unless it is essential, for example for work (if you cannot work from home) or education."
It also advises people in the eight areas to get tested for Covid twice a week, continue to work from home if possible, and get vaccinated when offered the jab.
But Wendy Burke, Director of Public Health for North Tyneside, said: "Last Wednesday it was announced in Parliament that North Tyneside, along with five other areas in England, would be subject to enhanced testing and vaccinations.
"When the announcement was made there was no indication it would come with any additional restrictions for North Tyneside or the other areas.
"We understand that, later, government guidance around travel in and out of North Tyneside was posted on the government website.
"This has not been accompanied by any communication to the Local Authority, local residents or businesses.
"We have already queried this with the Department of Health and Social Care to seek clarification.
"We will continue to work with government on our enhanced testing and vaccination plan which is now in place."
Surge testing in North Tyneside got underway last weekend with more than 1,000 people tested in two days while additional vaccination services are being provided with everyone aged over 32 able to book an appointment and people who are eligible but who have not yet had their first vaccine are urged to book as soon as they can.
Covid-19 cases in North Tyneside have risen from 22 to 55 per 100,000 over the last two weeks with around 40 confirmed cases of the Indian variant identified.
On Monday, a third testing site has opened in Shiremoor, next to Aldi and Costa, to add to the sites in North Shields and Wallsend town centres.
Residents and those who work or learn in North Tyneside are encouraged to make use of these PCR test sites, if they do not have symptoms of Covid-19.
The existing test sites at The Parks Leisure Centre in North Shields and the Coronation Street car park in Wallsend should continue to only be used by those with symptoms.
This week there will be extra vaccination services available from Tuesday at:
Tuesday 9am – 6pm at Shiremoor Northumberland Park, next to Costa and Aldi, NE27 0FG
Wednesday 9am – 6pm at Shiremoor Northumberland Park, next to Costa and Aldi, NE27 0FG
Thursday 3pm – 6pm North Shields town centre
Friday 9am – 6pm – North Shields town centre
Saturday 9am – 6pm – Location to be confirmed
Professor Neil Watson, who runs the Covid-19 Vaccination Programme for the North East and North Cumbria, said: "These additional vaccination services will add even more capacity to vaccinate people in the heart of communities across North Tyneside.
"The Covid-19 variant originally identified in India is circulating in North Tyneside, so the best way to protect yourself and your family is to take up your vaccination appointment when offered or come forward if you are over 32 and have not yet booked yours.
"These new vaccination services in North Tyneside will complement the thousands of appointments in community pharmacies, while our local GPs concentrate on bringing second dose appointments forward from 12 weeks to 8 weeks in-line with the new guidance for people over 50."
In North Tyneside there are seven local pharmacies offering vaccination with four further community locations at The Village Hotel, The Collingwood Centre, St Paul's House and Monkseaton Methodist Church.
Ms Burke added: "Covid can affect anyone at any age and we know people can suffer serious complications if they become infected.
"Even if you think your risk is low, there's still a chance you can catch it and pass it on to people around you, even if you have no symptoms.
"If you are offered an appointment for vaccination or asked to make one please do so."