Five world champions at South Tyneside karate club
Youngsters from a South Tyneside karate club are 'on top of the world' after racking up a huge medal haul at a global championship.
Published 1st Aug 2023, 09:21 BST

- 2 min read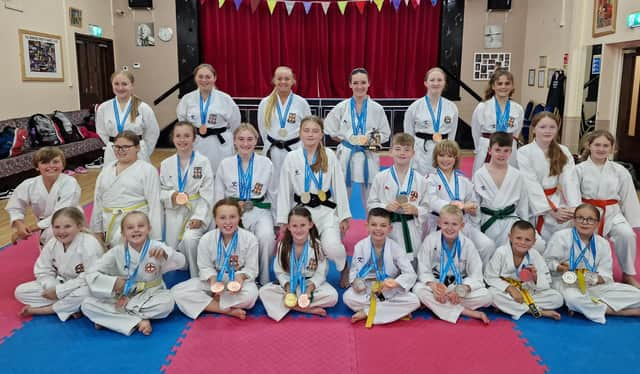 Dokan Karate Association came away from the WUKF World Championships with five individual world champions, ten gold medals in all – and backed it up with eight silver medals and 21 bronze.
The new world champions at the club – which is based in South Tyneside and Sunderland – are 12-year-olds, Laila Hunnam and Elliot Naile; seven-year old Josh Parkin and Charley Foster and Joseph Woodward, both aged nine.
Elle Smith and Eleisha Mitchinson took silver, whiole Katie Hunnam and Emma Snaith came home with bronze medals.
The event, held in Dundee Scotland, was contested by 4,014 competitors in 446 teams from thirty-one countries.
The club finished in ninth position on the medal table,
Dokan chief instructor, Kevan Mitchinson, said: "This was a tremendous performance. We took 68 competitors to an event which involved four incredibly hard days of competition and came back with 39 medals, well ahead of some much bigger clubs and associations from all over the world.
"The fact we have five individual world champions speaks for itself but there were also some fantastic efforts from any number of the students in both the individual and team categories."
He added: "Everyone stuck in, gave every competition their very best shot, and delivering on nine months of training leading up to the event.
"They made me feel proud and there were some very proud parents supporting them."
The club's success at the world championships follows on from the youngsters returning from the GB Open Tournament in Birmingham earlier in the summer with 17 gold medals, 19 silver and 26 bronze – and finishing second on the medal table
The youngsters are new preparing for a busy autumn competition season which will see them compete in major events all over the country – and the European Championships in France.
*Dokan Karate Association have clubs in Sunderland North and South and in South Tyneside.
Information is also available at www.dokan.co.uk and the club's Facebook page - DKA Dokan.