Hundreds celebrate International Women's Day in South Tyneside
Hundreds turned out to celebrate International Women's Day and the launch of a new campaign set to help more women across the borough.
Published 7th Mar 2020, 18:09 BST

- 2 min read
Updated 8th Mar 2020, 04:21 BST
More than 100 women from across South Tyneside turned out on the eve International Women's Day proper (Sunday, March 8) at an annual event organised by Women's Health in South Tyneside (WHiST) - a charity which has changed the lives of thousands of women.
Members of women's groups including Apna Ghar, Sangini, Hindu Nari Sangh, The Angelou Centre and CREST met to mark the occasion on Saturday, March 7 to celebrate strength and solidarity and the successes of women and girls in the borough and beyond.
The event, which was held at Salur House in Mile End Road also saw the launch of the charity's new "300 Women" campaign.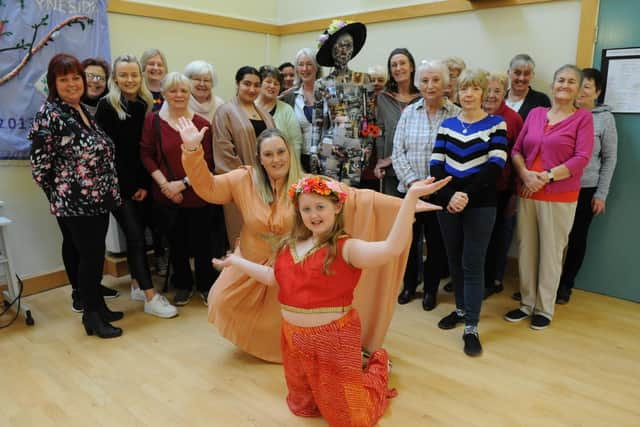 It's aiming to recruit 300 women and help them raise £300,000 - the cost of running the service for a year - to allow the charity to continue its work in South Tyneside.
WHiST helps change the lives of more than 1,000 women every year, offering a range of services from counselling and holistic therapies to training opportunities and social activities all under one roof.
But it struggles to survive on very little funding.
It needs women to help, with friends, family or individually, with a goal £1,000 per group or to help in other ways such as volunteering or becoming a trustee.
"Lots of women come here with a variety of complex needs such as domestic violence, relationship problems, financial struggles, bereavement, low mood or just a lack of confidence," said CEO Corinne Devine.
"International Women's Day is about us coming together to celebrate our successes. We're here to spend time together and appreciate how far we have come in making changes to women's lives in the borough, but also to think about women around the world who are coming together in solidarity to change their lives for the better and the wider knock on effect that has on their families and communities."
Rita Hossain of Hebburn has been attending the WHiST Weekly Knatter group for 12 weeks to help her learn English, she says it has been "really good for her" and helped build her confidence.
Meanwhile WHiST volunteer and centre user, Andonia says the service helped save her life when she was struggling with her mental health.
"I wouldn't be standing here now if it wasn't for WHIST. I was in a bad place and coming here really helped," she said.
"I had one-to-one counselling and there were so many other things to do to take my mind off things, I met other people and made new friends and ended up going to college and getting qualifications."
Now Andonia volunteers for WHiST and helps spread their message in the borough by sharing her experience.
"It's just a fabulous place to be, it's helped thousands of people," she added.
"It's just not fair that they struggle so hard to get funding. It helps so many people turn their lives around."
To find out more about the 300 Women campaign call 0191 454 659 or donate here.