ITV drama Innocent returns for series 2 - Cast, where it was filmed, what time it's on and how many episodes
Hit drama 'Innocent' returns to the nation's screens tonight, Monday, May 17, after a three-year absence.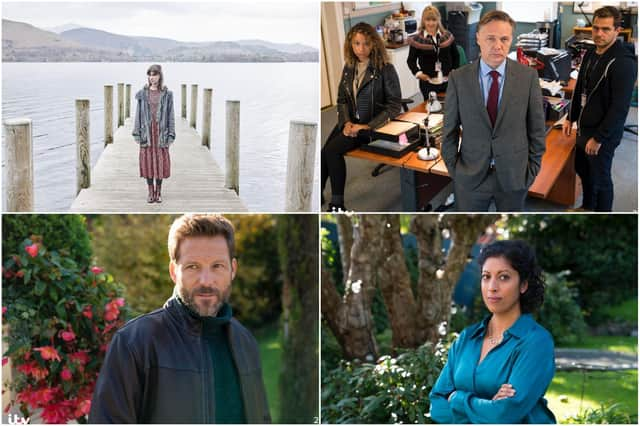 Clockwise from top left: Katherine Kelly as Sally Wright; Shaun Dooley as DCI Mike Braithwaite, Priyanga Burford as Karen and Jamie Bamber as Sam
But the ITV show will have a very different look from its first run, with all-new characters, story-line and setting.
Here's what you need to know.
What happened in the first series of Innocent?
Katherine Kelly is Sally Wright
Series one aired in 2018 and told the story of David Collins played by Insp George Gently's Lee Ingleby.
Convicted seven years previously for the murder of his wife Tara, David is unexpectedly released on a technicality and vows to bring the real killer to justice.
But the police remain convinced they got the right man.
Is David truly innocent - or is he a cunning and manipulative murderer?
Shaun Dooley is DCI Mike Braithwaite
What has changed for series two?
The new series of Innocent features an entirely different cast and story from the first run.
With the mystery of Tara Collins' murder solved, the new series focuses on former Coronation Street star Katherine Kelly as Sally Wright.
The teacher was the subject of a scandal in 2015, in which she was alleged to have had an affair with a 16-year-old pupil, Matty Taylor.
Filming in the Lake District
When Matty was found dead, brutally stabbed with a broken cider bottle, Sally – who had admitted to taking special interest in the boy – was convicted of his murder and jailed for a minimum of 15 years.
With her conviction overturned on appeal, Sally must rebuild her life despite having lost everything
Innocent series 2 takes a different approach to the original, which deliberately made the viewer question whether or not David Collins had killed his wife.
Episode one makes clear that Sally has been cleared and the series tries to work out who killed Matty.
Shaun Dooley's DCI Mike Braithwaite is the man in charge of finding out.
He and Katherine Kelly are joined by an impressive cast including Battlestar Galactica's Jamie Bamber as Sally's estranged husband Sam and Priyanga Burford as his new fiancee Karen.
Where was the series filmed?
Innocent series 2 is set in Keswick in the Lake District and was filmed in and around the town, as well as in Ireland.
Director Tracy Larcombe said executive producer Jeremy Gwilt had played a major role in her choice of locations: "The first time I went to Keswick, Jeremy took us to some of his favourite places and Crummochwater was one. I was blown away when I first saw it and knew that we had to feature it somehow," she said.
"I was really keen on adding a particular scene where Sally asks to get out of the car and scrambles up the bank and then we turn around with her and see this view which is what she's been dreaming about for five years."
Derwent Water features heavily in the series, with various shots on the pebble beaches and jetty.
However as Keswick's old police station is a now a Wetherspoon pub filming for those scenes was carried out at an old school just outside of Dublin.
Where and when can I watch series two of Innocent?
Innocent is a four part series and all episodes will be aired in one week
Episode one of the new series debuts tonight, Monday, May 17, at 9pm on ITV.
Episode two will air at 9pm on ITV on Tuesday, May 18, episode three will air at 9pm on Wednesday May 19 and episode four will air at 9pm on Thursday May 20.
The dramatic events of the pandemic are having a major impact on many of our local valued advertisers and consequently the advertising that we receive. We are now more reliant than ever on your support through buying our newspaper. If you can, please pick up a copy when you are at the shops. Thank you.